City's first Champions League final ended in defeat as Chelsea were crowned European champions.
A goal from Kai Havertz just before the break was enough to give the London side a 1-0 in Porto.
WHAT HAPPENED?
Chelsea won the Champions League for the second time as a Kai Havertz goal secured a tense 1-0 victory over Manchester City in Saturday's final in Porto, shattering Pep Guardiola's dream of lifting the trophy for the third time, a decade on from his last triumph.
Tactical Line-ups
Let's go now to have a look at how Thomas Tuchel set up his Chelsea side against Manchester City –
5-2-2-1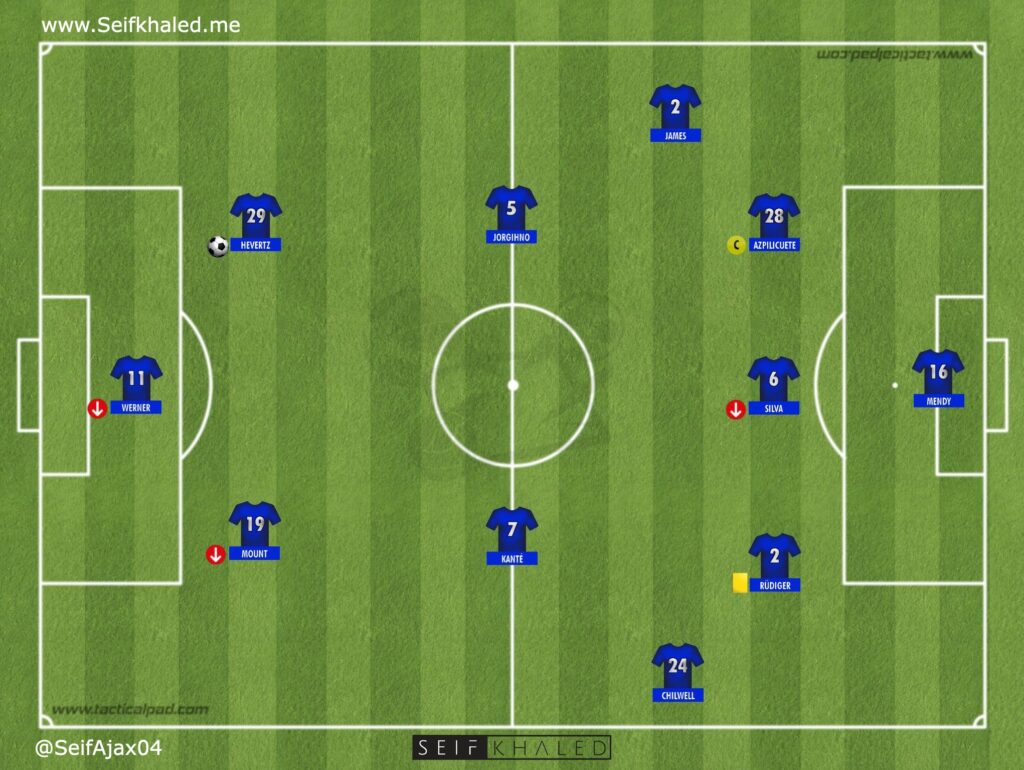 How Pep Guardiola set up his Manchester City side against Chelsea –?
4-3-3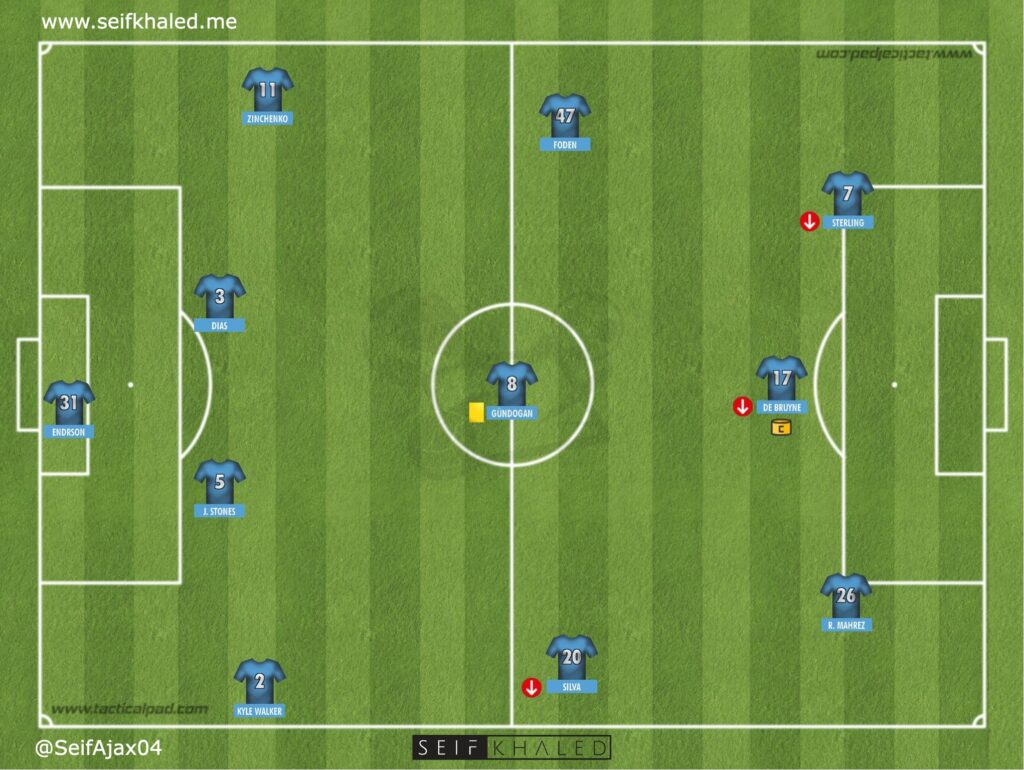 Key Statistics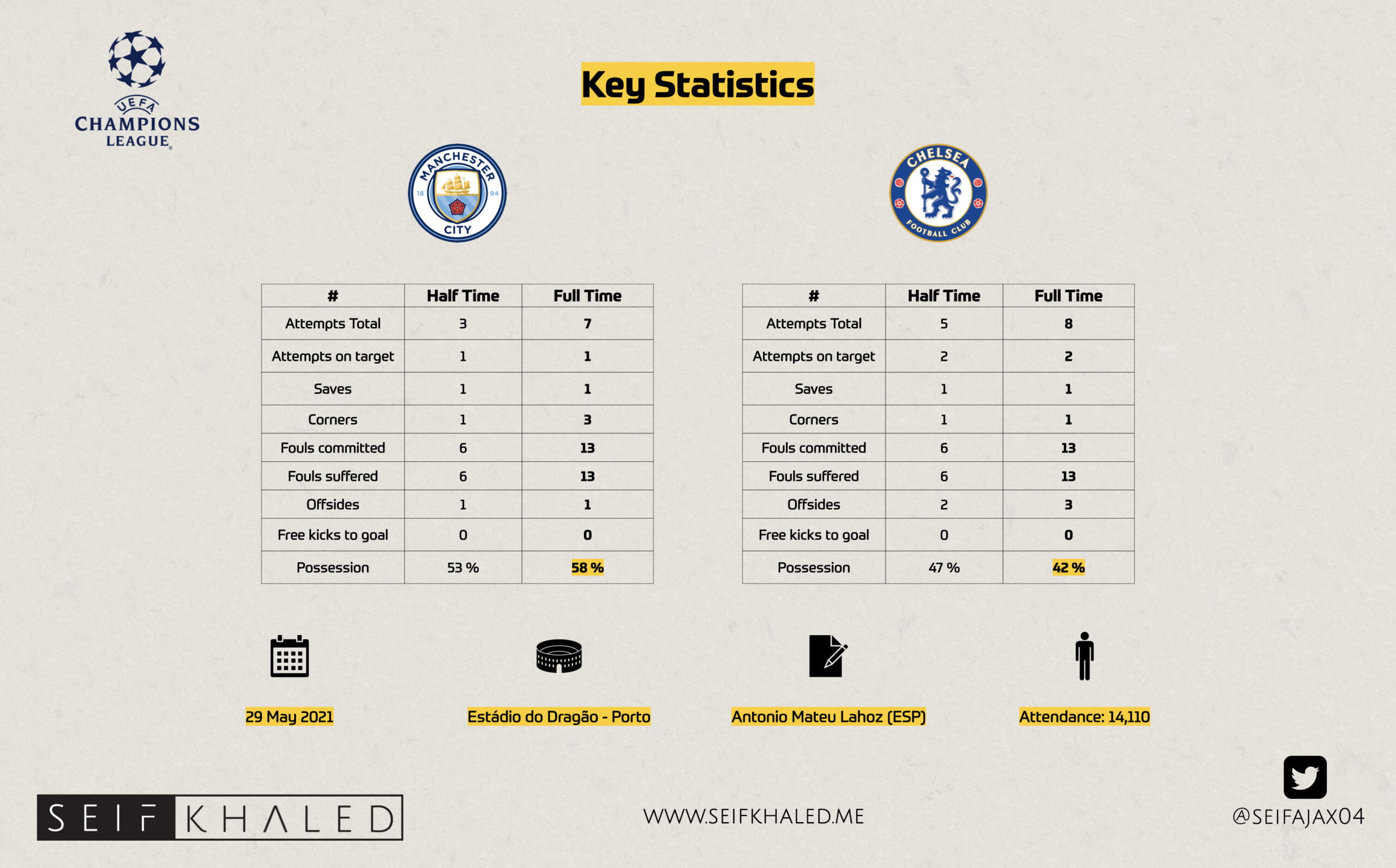 Players Statistics – Manchester City
Players Statistics – Chelsea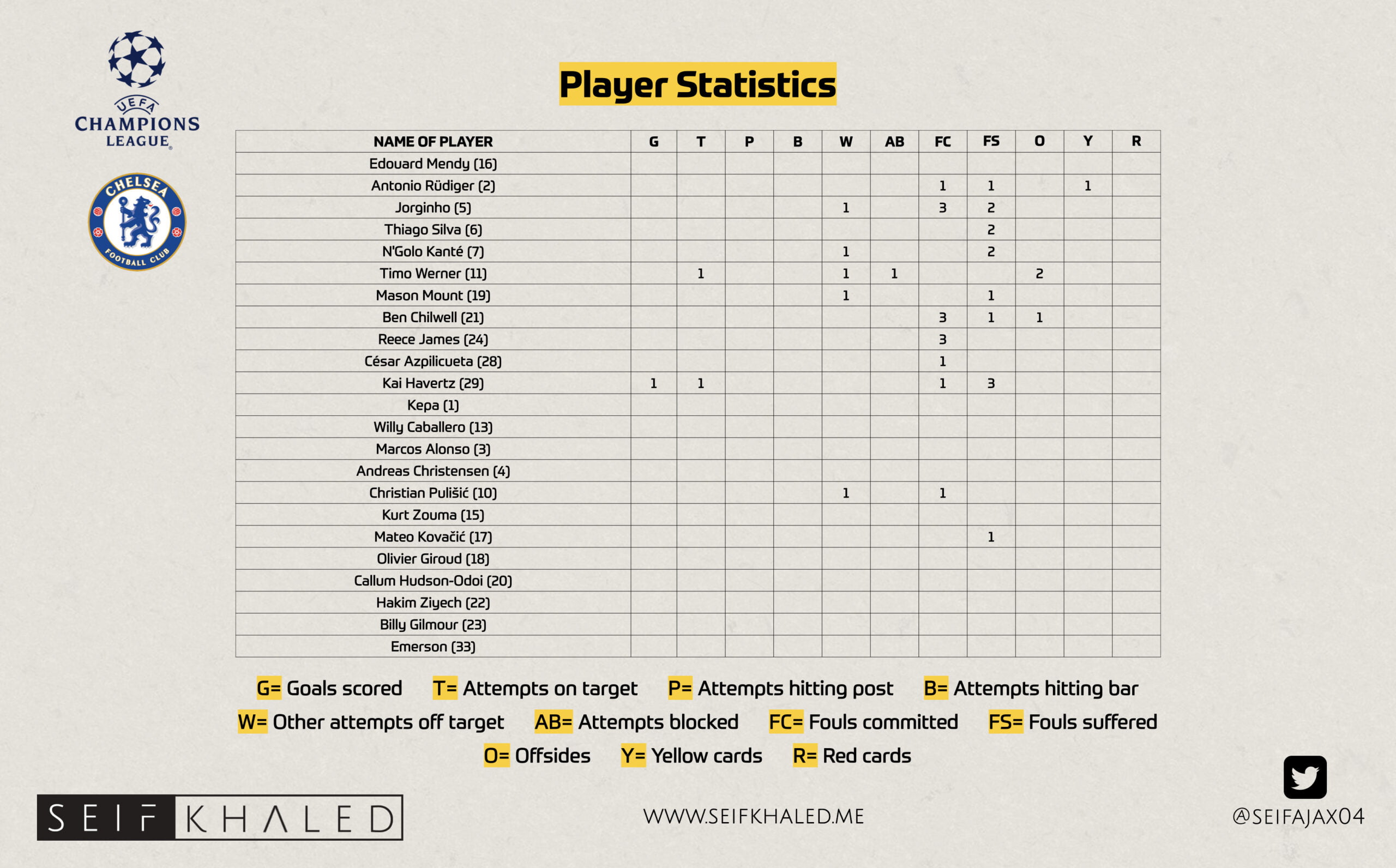 First half
City set out to maintain possession and play high up, recovering the ball high, and using their overloads in midfield to deal with any pressing from Chelsea to go on to create in the final third through their combinations.
They kept Sterling and Mahrez high and wide to pin Chelsea's wing-backs back (as Pep used to do against Conte's Chelsea), with Zinchenko moving into the left of the midfield three and Foden playing higher up with De Bruyne — leaving Walker deep in the back three. They arrived the final third well but had great difficulty creating chances as Chelsea were there in numbers and winning their defensive 1-v-1s on the wings.
Chelsea didn't press high up and only offered a little aggression in their pressing from midfield initially, but as the half went on, they would begin to recover the ball in midfield and go on to create a number of dangerous opportunities to counter later on in the half. Mount, Havertz and Kanté all found spaces to the side of Gundogan to carry the ball quickly at City's backline before looking to combine or find runners to get behind.
Sustaining a high position for close distances and high pressing was City's objective, as evidenced by having more technical players on the field than those with defensive qualities. They pressed well to the left to mark Jorginho and limit the options for Azpilicueta, especially given that the right is Chelsea's stronger side to play out from the back. And City's best chance of the game did in fact come from recovering the ball high from one of these situations, leading to Foden's blocked shot by Rüdiger — most City opportunities came from broken play otherwise.
Chelsea's longer passes caused City multiple problems. Werner, always a willing runner into the channels, gave Chelsea a direct outlet to get behind and stretch the game, where he could hold the ball in the corner before looking for a ball into the box — City defending with just the back four and Gundogan.
Long balls for Werner's runs centrally didn't always find their target, but would again stretch City and leave them unable to recover the second balls (headers knocking ball back into dangerous spaces ahead of backline which Gundogan couldn't control) which would provide opportunities for Havertz, Mount and Kanté to push on and win the ball high up, leading to a number of good chances for Chelsea to score.
City would also attempt long balls of their own, with the early pass by Ederson finding Sterling inside Chelsea's box requiring excellent recovery by James and pressure by Mendy, but the main difference with City's attempts of long passes behind for De Bruyne and Foden making runs, was Thiago Silva dealing with the initial ball to take the danger away (finding teammate with header or clearing the ball away from danger) rather than heading the ball into spaces where City would've been able to compete for the second ball high up.
Along with the long balls behind, Chelsea could use the diagonal ball out to Chilwell as another outlet where they would catch Walker 2-v-1 (against the wing-back and Mount, with Mahrez and Silva high up, too far for Gundogan to close down). Creating almost identical situations for Mount back-to-back in the same sequence would see his first pass go out to James (Havertz making a run from outside to inside of Zinchenko) but the second, a killer ball, finding Havertz running behind to give Chelsea the lead before halftime.
Second half
City made a stronger start to the second half with more aggression and closer distances to press high, and recovering the second balls from Chelsea's long passes behind. However, in their attacks they seemed too desperate to score and were often trying to force the creation of chances rather than stick to what they do well with the ball.
More individual carries and trying to drive at Chelsea's backline would mainly see the increase of Kanté's influence in the game, to match the runs and recover the ball with precision on a number of occasions, which would then open up opportunities to start counter attacks — but with Chelsea making a lot of mistakes with the ball from counters, too. To add to City's problems, they lost De Bruyne to injury early on in the half.
City final changes of the game saw Fernandinho replace Silva and Agüero going on for Sterling (4-4-2 to look for the goal), while Chelsea's changes brought Pulisic on for Werner and Kovačić for Mount (switching to 3-5-2 but really always defending with everyone back when deep) as they looked to kill the game on the counter or to see the game out.
City got behind Chelsea's backline on the wings on a couple of occasions to create some dangerous situations, but Chelsea's blocks and clearances inside the box stopped these opportunities turning into shots on goal. Chelsea created the opportunity for Pulisic to finish the game with an excellent counter, but by keeping City out at the back, the one goal lead would be enough to see the game out and win the Champions League for a second time.