Analyzing Al Ahly Club's Performance: A Statistical Breakdown
Al Ahly Club, a powerhouse in Egyptian and African football, has showcased remarkable performance across various competitions. Let's delve into the numbers and analyze their stats from the Egyptian Premier League, CAF Champions League, and the FIFA Club World Cup.
Please grab a cup of coffee and enjoy reading this article ☕
Egyptian Premier League statistics
In the Egyptian Premier League, Al Ahly played 34 matches, exhibiting a dominant presence on the field. They demonstrated an incredible goal-scoring prowess with 63 goals, averaging almost 2 goals per match. Equally noteworthy is their solid defense, conceding only 13 goals throughout the league. This tight defense contributed significantly to their success, maintaining an impressive goal difference. Moreover, their teamwork is evident in the 40 assists they provided, emphasizing their collaborative playstyle.
CAF Champions League statistics
Stepping onto the continental stage, Al Ahly Egypt maintained their competitive edge in the CAF Champions League. Over 12 matches, they showcased their goal-scoring ability, netting 23 goals. However, there's a slightly higher average of goals conceded per match compared to the domestic league, standing at around 0.83 goals. This indicates that while their attack remained strong, their defense faced tougher challenges. Notably, they managed to create 23 assists, highlighting their ability to create scoring opportunities even in challenging fixtures.
FIFA Club World Cup statistics
On the global platform of the FIFA Club World Cup, Al Ahly Egypt participated in 4 matches. Their goal-scoring rate of 7 goals, averaging around 1.75 goals per match, demonstrates their capability to adapt to international competition. However, they also conceded 8 goals, which could be attributed to facing some of the best clubs from around the world. Despite this, they managed to provide 4 assists, reflecting their commitment to teamwork and strategic play.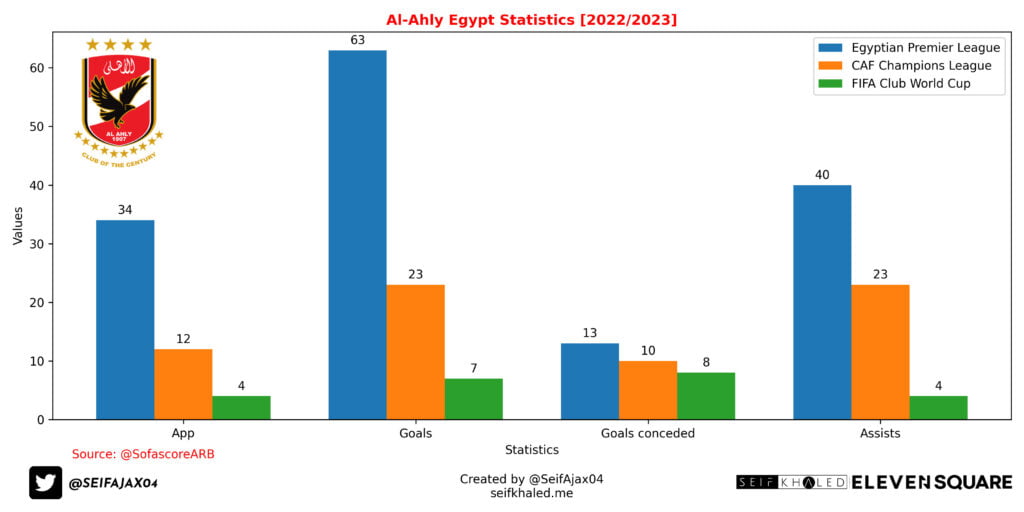 Key Takeaways:
Consistent Scoring: Al Ahly Egypt consistently demonstrated their attacking strength across all competitions, which is a testament to their offensive tactics and well-coordinated gameplay.
Defensive Resilience: In the domestic league and CAF Champions League, Al Ahly's defense performed exceptionally well. Maintaining a low goals-conceded tally signifies their organized defensive structure.
Adaptability: The slight variance in stats across different tournaments underscores their ability to adapt to varying levels of competition and strategic demands.
Teamwork and Assists: The number of assists indicates that Al Ahly Egypt places a significant emphasis on teamwork and creating scoring opportunities through collaboration.
In conclusion, Al Ahly's statistical analysis reveals a club with a multifaceted approach to the game. Their ability to balance attacking prowess with defensive stability, irrespective of the competition, showcases their excellence in football. As they continue to compete on both local and international stages, these stats provide valuable insights into their strengths and areas for further improvement.
This project was created by @SeifAjax04. The data used in this project was obtained from sofascore.com.