Pierre-emerick aubameyang [Profile]
The first two years of Pierre-Emerick Aubameyang's Arsenal career involved as many permanent managers as the north London club had had in its previous 31. After being signed by Arsène Wenger and playing throughout the entirety of Unai Emery's reign, Mikel Arteta became his third manager at the Emirates Stadium, and Aubameyang has admirably continued to adapt.
He immediately adjusted to the Premier League and shared the golden boot in his first full season, when he finished the competition's joint leading goalscorer, alongside Mo Salah and Sadio Mané, with 22 goals. During their turbulent 2019/20, when Aubameyang again scored 22 league goals, he finished behind only the 23-goal Jamie Vardy. As Arsenal's captain and their top goalscorer, he has become crucial to Arteta's team.
Tactical analysis
Throughout his career, Aubameyang has used clever movements to escape opponents when attacking the penalty area (below). His acceleration, particularly from a standing start, is a significant strength – he bursts through gaps or into large spaces and indicates to teammates when to release a pass forwards, and his awareness and the timing of his runs is comparable with the world's best.
His ability to make use of spaces high up the pitch has become crucial for Arsenal. Where Emery used him as a central striker and from both the left and right, Arteta has preferred to field Aubameyang on the left. From a wide position he looks to run on to passes in behind the opposing right-back and to get himself into one-on-ones against the goalkeeper. His finishing is exceptional; he knows when to shoot early, when to slide his finish under a goalkeeper, and when to chip over him. He is also a threat with shots from outside of the penalty area.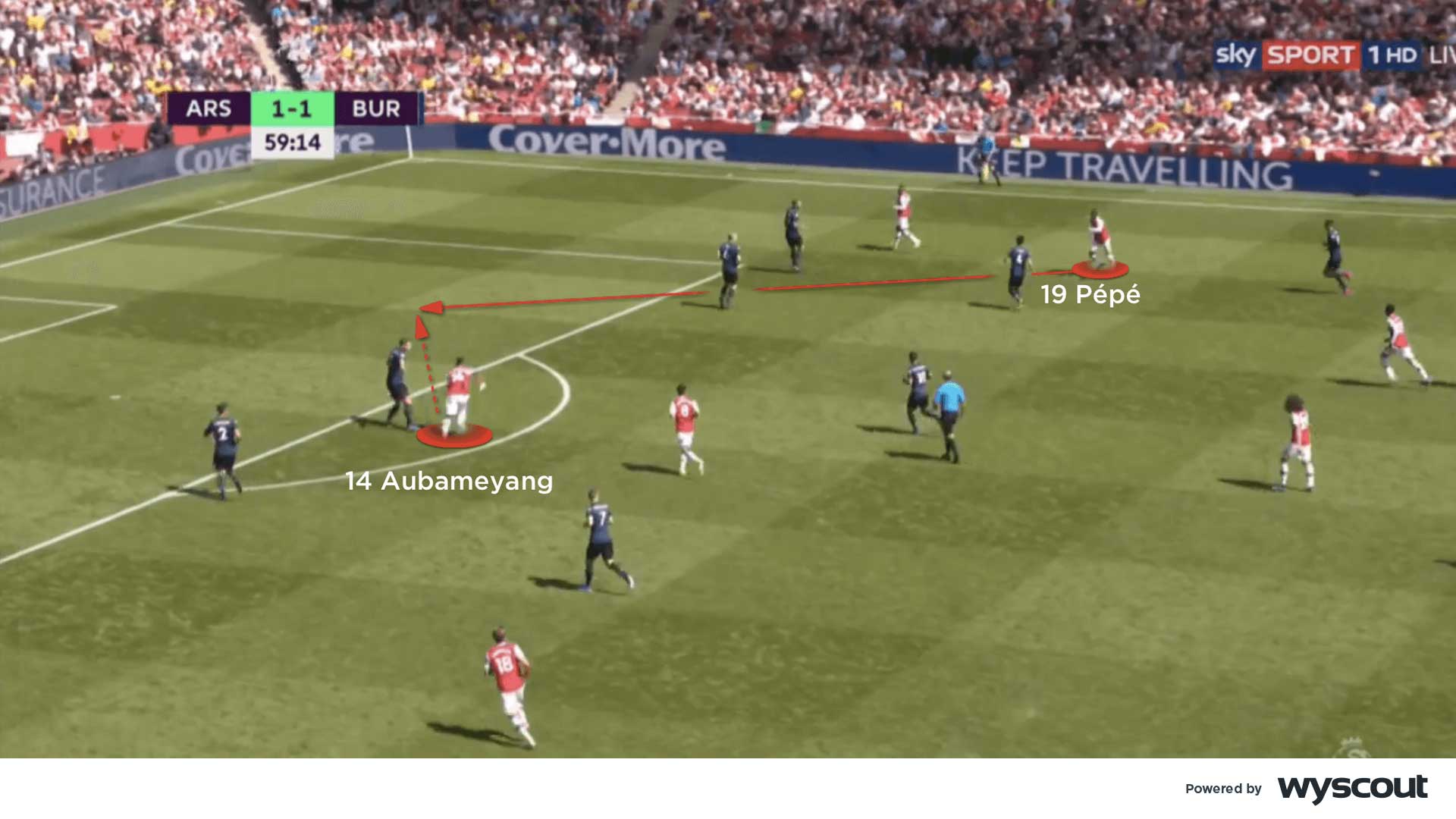 Aubameyang is adept at rolling possession from one foot to the other – in either direction – to create a shooting opportunity even when faced with several defenders who are set in their position (below). Given most goals are scored off one or two touches, the ability to do so is particularly useful when it appears the chance to shoot has passed. He can also do so from any angle and from either side of the pitch, because his left foot is almost as strong as his right. His explosive movements make it difficult to deny him that shot; defenders often attempt to anticipate which direction he will move to and to get a head start on him, but doing so risks him going in the other direction. In those circumstances he is among the best in the world.
It is when his back is to goal that he is less capable. His hold-up play is unconvincing, which is largely why Arteta has favoured playing him on the left. Despite his frame, he is sometimes too easily muscled off the ball, and therefore prefers playing off of one touch so that his opponent can't get near him, even if that is a riskier approach that can lead to misplaced passes. He can also be guilty of rushing his attempts to dart forwards and get further ahead of the ball, attempting to as quickly as possible get closer to goal, and can ultimately concede possession.

Role at Arsenal
Whether Arteta is using a back three or four, he retains three in attack; Aubameyang almost always lines up on the left of that three. Emery attempted to use a diamond midfield so that Aubameyang could play alongside Alexandre Lacazette in a two, but Arteta prefers one out-and-out striker so Aubameyang has instead been given a wide starting position. Even when given a central role, Aubameyang has a tendency to drift wide in search of space, similarly to how Thierry Henry once did for Arsenal. He is comfortable holding a wide position, either to receive a pass to feet before running at his opponent, or if looking to run on to a pass in behind.
The presence of Bukayo Saka, Willian or Nicolas Pépé on the right provides Arsenal with another direct threat, but the latter regularly moves inside on to his left foot and draws midfielders out of position in an attempt to create. Aubameyang makes the most of the spaces they create by moving into a central position between the lines once the opposing central midfielders have been drawn towards the ball (below). If they instead choose to continue attacking towards the right, Aubameyang prioritises the spaces in behind, and aims to pursue balls played across goal.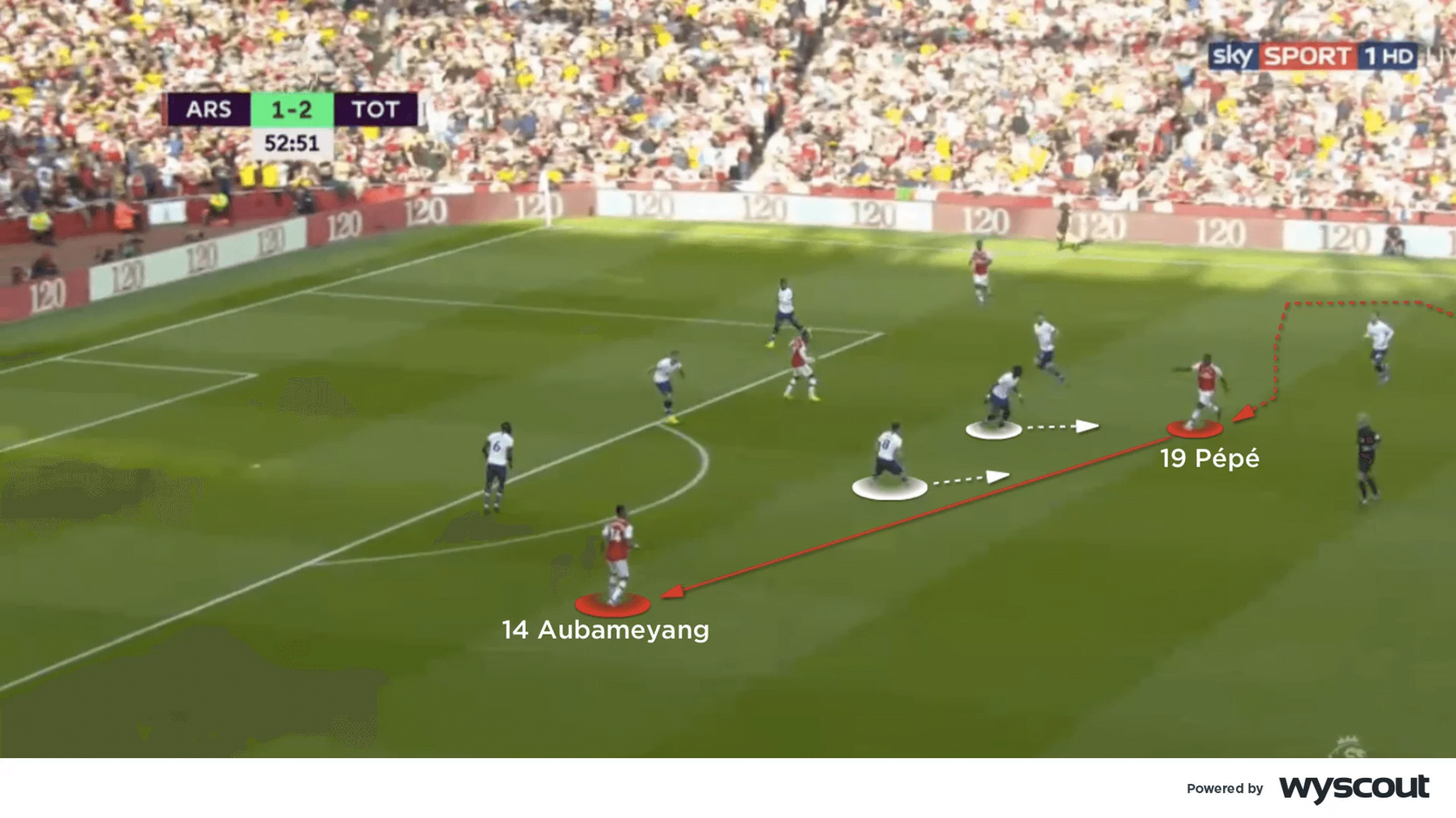 Aubameyang's penetrative movements also encourage swift attacks after regains in midfield, and he increases their potential during moments of transition. In Aubameyang, Lacazette and Emile Smith Rowe – or, indeed, Pépé, Willian, Reiss Nelson, Saka and Eddie Nketiah – Arsenal have attackers capable of breaking at speed, in front of full-backs or wing-backs who support attacks and add numbers in the final third.
As a player who patently, and understandably, wants to spend as much time as he can attacking, Aubameyang deserves credit for improving his defensive awareness. As Arsenal's captain he has taken a mature approach to being played wide, and he effectively tracks back to ensure that his team quickly adopt the out-of-possession shape Arteta demands. If that is not the only explanation, it is regardless indicative of why Arsenal are better, defensively, under Arteta than they were under Emery. Aubameyang has always had a lethal eye for goal, but as their dressing room leader and a senior member of Arsenal's squad, he is perhaps an even more complete player than the one they bought in January 2018.