Updated after matches played on 29 September 2023
Full Name: Mohamed Salah Hamed Mahrous Ghaly
Date of Birth: June 15, 1992
Place of Birth: Nagrig, Basyoun, Egypt
Nationality: Egyptian
Height: Approximately 1.75 meters (5 feet 9 inches)
Position: Forward/Winger
Current Club: Liverpool FC (as of September 2021)
Jersey Number: 11
Foot: Left
Youth Career: Mohamed Salah began his youth career at El Mokawloon, an Egyptian club.
Professional Debut: Salah made his professional debut for El Mokawloon's senior team in 2010.
Mohamed Salah
Main position
1- Main position:
– Right Winger
2- Other position:
– Second Striker
– Centre-Forward
Early Life and Development
Salah was born in Nagrig, Egypt, on June 15, 1992. He grew up in a humble family and, like many Egyptian children, developed a deep passion for football from a young age. His early years were marked by playing football in the streets and fields of his village, using whatever makeshift equipment was available.
Local Clubs and Youth Teams
Salah's journey as a professional footballer began with local clubs in Egypt. He joined the youth ranks of El Mokawloon Club, a prominent Egyptian club, where he honed his skills and caught the eye of scouts. His performances at El Mokawloon club opened the door to a professional career.
Mohamed Salah Club Career
FC Basel (2012-2014): Salah's European adventure began when he joined FC Basel in Switzerland. He gained recognition for his performances in the Swiss Super League and the UEFA Europa League.
Chelsea FC (2014-2016): Salah signed with Chelsea FC in January 2014. During his time at Chelsea, he also had loan spells with other clubs, including Fiorentina and AS Roma.
AS Roma (2016-2017): Salah's move to AS Roma was initially a loan but later became a permanent transfer. He had a highly successful season with the club, establishing himself as a top talent in Serie A.
Liverpool FC (2017-present): Salah made a historic move to Liverpool FC in June 2017. He quickly became a fan favorite and played a pivotal role in Liverpool's success, including winning the UEFA Champions League.
Mohamed Salah International Career
Mohamed Salah has been a key player for the Egyptian national team, representing Egypt in various international competitions, including the Africa Cup of Nations and FIFA World Cup.
Unlocking the Numbers: Mohamed Salah's Career in Shots and Goals
Shots: Mohamed Salah has taken a total of 1005 shots during his career. This represents the number of times he has attempted to score a goal.
xGcum (Expected Goals Cumulative): This statistic, often referred to as "Expected Goals," is a measure of the quality of scoring opportunities a player has had over their career. Salah's xGcum is 166.77, indicating that based on the quality of his shots, he was expected to score approximately 166.77 goals.
xG Per Shot: This is the average expected goals value for each shot Salah has taken. In his case, it's 0.16, which means that, on average, each of his shots had an expected goal value of 0.16.
Goals: Mohamed Salah has scored a total of 175 goals during his career. This represents the actual number of times he has successfully put the ball into the net.
These statistics provide insights into Salah's goal-scoring efficiency and his ability to convert scoring opportunities into goals. It's worth noting that the xG values are based on various factors such as shot location, shot type, and defensive pressure, and they can be used to assess how well a player is performing relative to the quality of their chances. Salah's ability to score more goals than his xGcum suggests indicates that he is a highly effective finisher.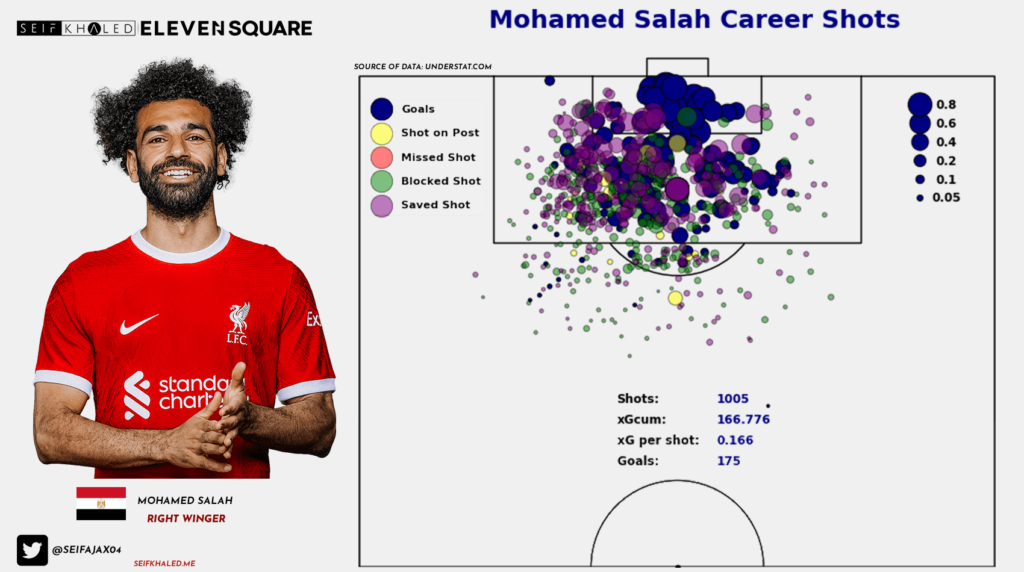 Analyzing Mohamed Salah's Career Goals
Total Goals: 175
Mohamed Salah's total career goals of 175 are a testament to his incredible scoring ability. It places him among the elite goal-scorers in the world of football. Now, let's break down these goals by the specific parts of his body used to score:
Right Foot Goals: 28
Efficiency with the Non-Dominant Foot: Scoring 28 goals with his right foot is a remarkable feat, especially considering that Salah is naturally left-footed. This demonstrates his high level of technical skill and versatility.
Versatility and Unpredictability: Salah's ability to score with both feet makes him a nightmare for defenders. They cannot simply force him onto his weaker foot to limit his effectiveness, as he is more than capable of scoring with his right.
Left Foot Goals: 139
Left-Foot Dominance: Salah's left foot is his dominant foot, and scoring 139 goals with it showcases his exceptional proficiency. His left foot is known for its accuracy, power, and ability to find the corners of the net.
Consistency and Reliability: Salah's consistency in scoring with his left foot highlights his reliability as a goal-scorer. Defenders often struggle to prevent him from getting into positions where he can use his favored foot effectively.
Head Goals: 8
Overall Analysis:
Mohamed Salah's ability to score with both feet and his head makes him a complete forward.
His right-footed goals demonstrate his adaptability and the element of surprise he brings to his game.
The overwhelming majority of his goals come from his left foot, which showcases his exceptional skill with his dominant foot.
His headers, though fewer in number, reflect his well-rounded abilities and his ability to exploit various scoring opportunities.
In summary, Mohamed Salah's career goals showcase his versatility, skill, and ability to score in a variety of ways. This diversity in his goal-scoring arsenal not only makes him a formidable opponent but also a source of inspiration for aspiring footballers worldwide.
Mohamed Salah Key Passes per 90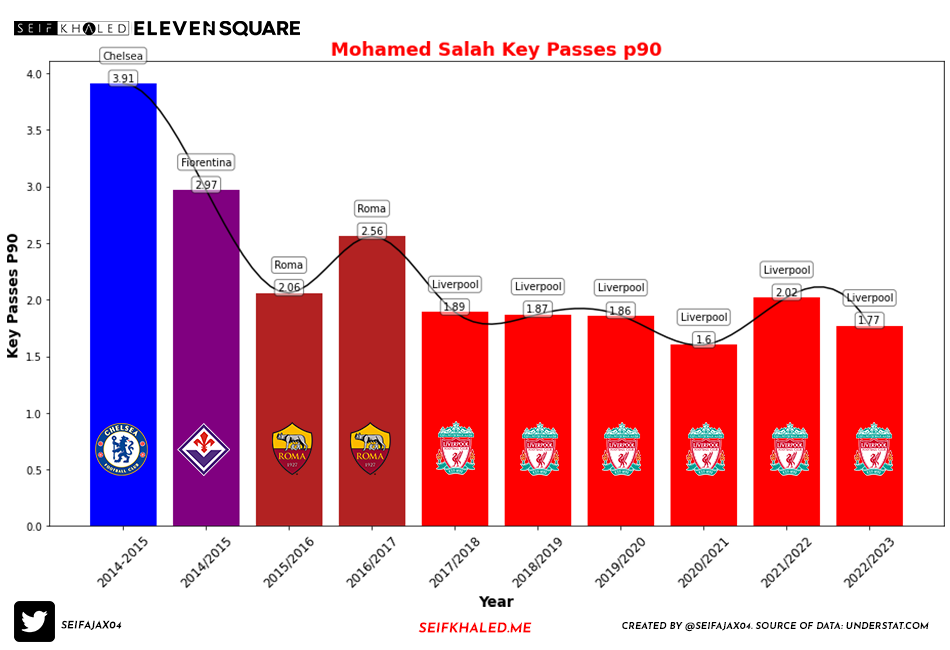 Mohamed Salah's key passes per 90 have shown a certain degree of fluctuation over the years.
He has demonstrated his versatility by maintaining a considerable number of key passes while evolving from a winger to a more central attacking role at times.
Salah's ability to provide key passes is an integral part of his contribution to his team's attack, complementing his goal-scoring prowess.
His impact as a playmaker has been particularly noticeable during his peak years, where he combined both goal-scoring and playmaking at a high level.
These statistics illustrate Salah's adaptability and consistency as a key contributor to his team's offensive play, evolving his role as needed while maintaining his creative abilities.
Mohamed Salah Shots per 90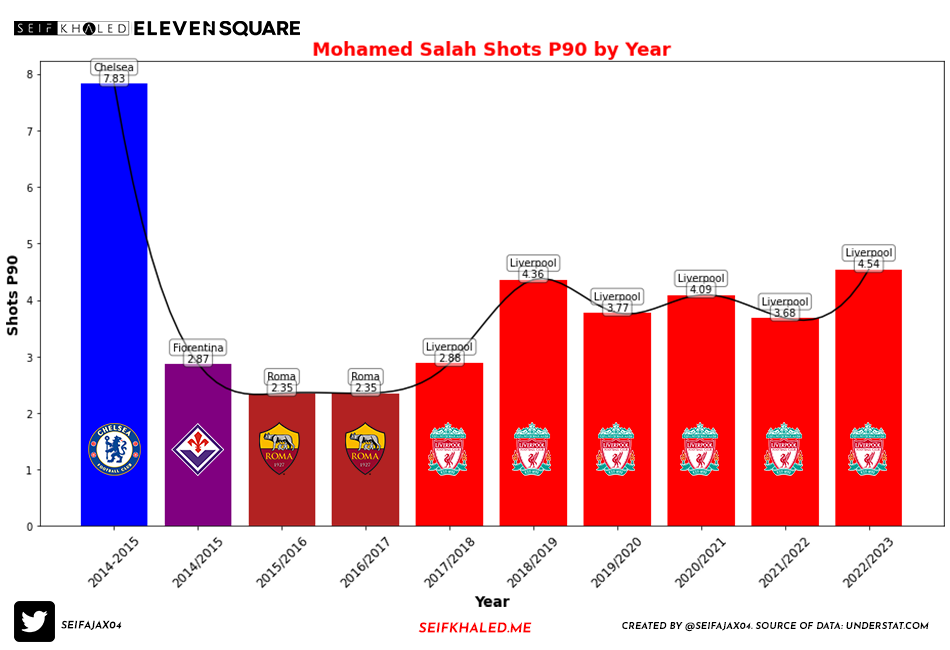 Mohamed Salah's shots per 90 have varied significantly throughout his career, reflecting changes in his playing style, team tactics, and roles.
His early career was characterized by explosiveness and a high number of shots per 90, while his later years saw a more balanced approach.
During his peak goal-scoring years, Salah's ability to consistently take a high number of shots per 90 was crucial to his goal-scoring success.
His recent seasons show a continued commitment to contributing offensively, maintaining a healthy number of shots per 90.
These statistics highlight Salah's ability to adapt his playing style and role over the years while consistently maintaining a significant offensive presence in terms of shots taken.
Analyzing Mohamed Salah's Performance in Premier League 2022/2023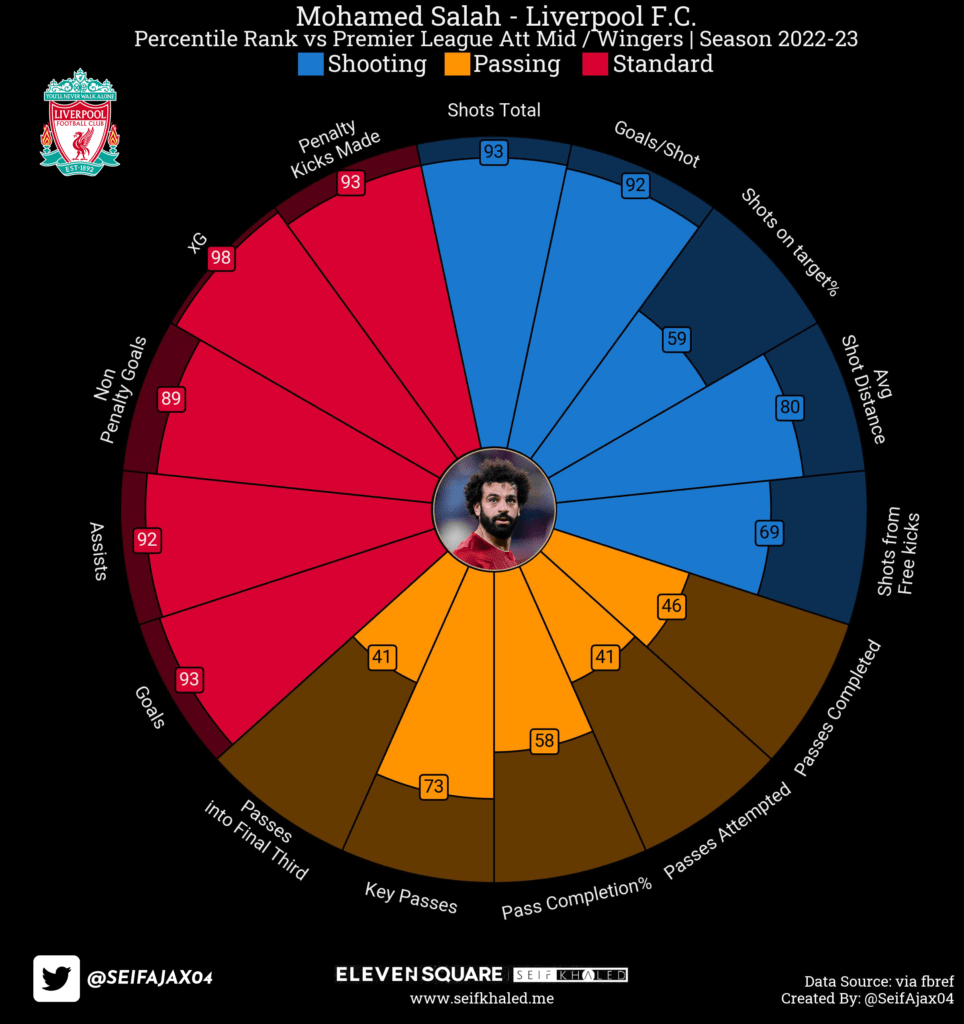 Mohamed Salah's Shooting Stats
Salah's relationship with shooting is one of precision and artistry. The "Shots Total" at 93% portrays his ceaseless drive to create goal-scoring opportunities. The efficiency of his strikes is evident in the "Goals/Shot" ratio of 92%, signifying that almost every shot he takes has a high likelihood of finding the back of the net.
The "Shots on target%" figure stands at 59%, a testament to his ability to consistently challenge goalkeepers and force them into making crucial saves. Even when defenders attempt to thwart his efforts, Salah's accuracy often prevails.
"Avg Shot Distance" at 80% dispels the notion that Salah's influence is limited to close quarters. He's equally potent from long-range distances, a quality that keeps defenders on their toes. Furthermore, the 69% of shots from free kicks demonstrate his mastery over set pieces, providing Liverpool with an added edge in dead-ball situations.
Mohamed Salah's Passing Stats
Mohamed Salah's contribution extends beyond scoring; he's a creator as well. With 46% of passes completed, he ensures that possession is maintained and opportunities are fashioned. "Passes into Final Third" at 41% underscores his ability to break through defensive lines and set the stage for attacks that penetrate deep into opponent territory.
The "Pass Completion%" of 58% reflects Mohamed Salah's daring approach to passing. He's not content with simple plays; he seeks to thread the needle and carve open defenses, a trait that occasionally leads to a lower completion rate but adds a layer of unpredictability to his team's play.
Mohamed Salah Trophies

2x African Footballer of the Year
2x Footballer of the Year
| | | |
| --- | --- | --- |
| 2022 | | England |
| 2018 | | England |
1x FIFA Puskás Award
4x Top goal scorer
| | | |
| --- | --- | --- |
| 21/22 | | Premier League – 23 Goals |
| 18/19 | | Premier League – 22 Goals |
| 17/18 | | Premier League – 32 Goals |
| 16/17 | | World Cup qualification Africa – 5 Goals |
1x FIFA Club World Cup winner