Introduction
The Premier League clash between Arsenal and Manchester United on the 3rd of September 2023 was a highly anticipated matchup that didn't disappoint. The match, which ended with a final score of 3-1 in favor of Arsenal, provided football enthusiasts with plenty to talk about. One of the key tools used to analyze the game's dynamics is the Expected Goals (xG) flowchart, which offers valuable insights into the quality of chances created by each team. In this article, we break down the xG flowchart and delve into the key statistics and goal-scorers.
Arsenal vs. Manchester United Match Overview
Match Result: 3-1 (Arsenal)
xG: Arsenal 1.91 – Manchester United 0.97
Date: September 3, 2023
xG Flowchart Analysis
The xG flowchart for the Arsenal vs. Manchester United match provides a comprehensive look at the quality of scoring opportunities for each team. Arsenal held a significant advantage with an xG of 1.91, while Manchester United registered an xG of 0.97. Let's explore the implications of these numbers:
Arsenal's xG (1.91): This indicates that Arsenal had several high-quality scoring opportunities throughout the match. The flowchart suggests that their chances were distributed across various points in the game, showcasing their attacking prowess.
Manchester United's xG (0.97): In contrast, Manchester United's xG suggests that they had fewer and less promising opportunities to score. Despite having some moments, they were unable to capitalize on their chances as effectively as Arsenal.
Key Match Statistics
To further dissect the match, let's take a look at some of the crucial statistics:
Shots: Arsenal had 17 shots compared to Manchester United's 10, demonstrating their superiority in terms of creating goal-scoring opportunities.
Shots on Target: Arsenal managed to put 5 of their 17 shots on target, while Manchester United had 2 on target out of 10, emphasizing Arsenal's efficiency in testing the opposing goalkeeper.
Possession: Arsenal dominated possession with 55% compared to Manchester United's 45%. This control of the ball allowed them to dictate the tempo of the match.
Total Passes: Arsenal completed 532 passes, while Manchester United completed 462 passes, indicating Arsenal's greater involvement in building up play.
Pass Accuracy: Arsenal boasted a pass accuracy of 87%, slightly better than Manchester United's 85%, underlining their precision in ball circulation.
Corners: Arsenal had 12 corners, significantly more than Manchester United's 3, suggesting their continuous offensive pressure.
Goal-Scorers Arsenal vs Manchester United
The match witnessed some thrilling moments with goals from the following players:
Marcus Rashford (Manchester United): Rashford opened the scoring for Manchester United in the 27th minute, with an assist from Christian Eriksen. His clinical finish marked a strong start for the visitors.
Martin Ødegaard (Arsenal): Arsenal quickly responded with Martin Ødegaard finding the back of the net in the 28th minute, assisted by Gabriel Martinelli. This goal leveled the playing field.
Declan Rice (Arsenal): The late drama unfolded in the 96th minute when Declan Rice scored for Arsenal, with an assist from Bukayo Saka. This goal secured a dramatic victory for Arsenal.
Gabriel Jesus (Arsenal): Arsenal added another in the 90+11th minute with Gabriel Jesus finding the target, assisted by Fabinho Vieira, sealing their triumph.
Shot map Arsenal vs Manchester United, September 3, 2023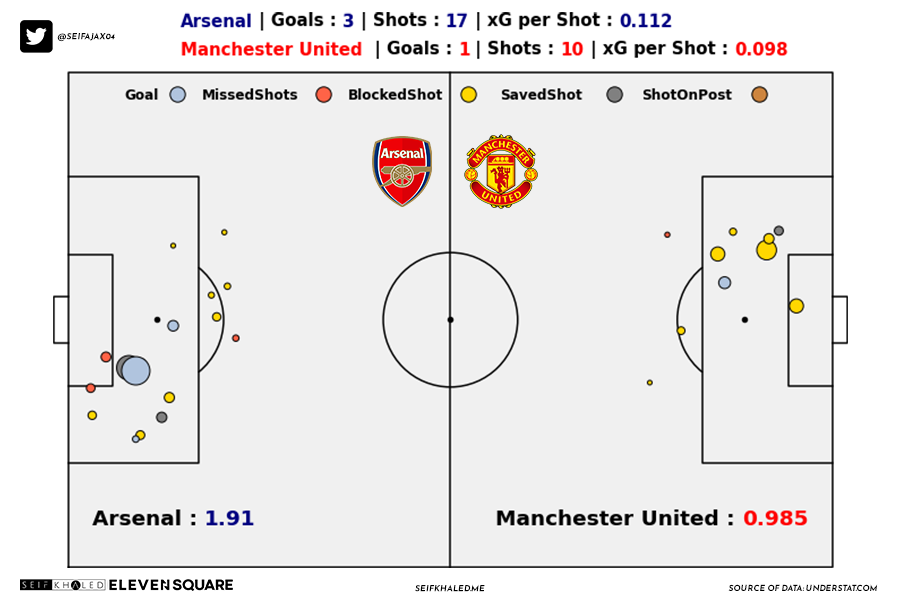 Conclusion
The xG flowchart and key match statistics from the Arsenal vs. Manchester United clash on the 3rd of September 2023 provide valuable insights into the match's dynamics. Arsenal's dominance in xG, shots, and possession ultimately translated into a hard-fought victory. The late goals and dramatic moments added to the excitement, making this Premier League encounter one to remember.