Since Italy last played in either of the most prestigious international competitions in football, much has happened to say the least.
New faces, young and old, have joined Roberto Mancini, accompanied by some experienced veterans who will most definitely have an impact on Italy's style and quality of play at this tournament.
This Italy team is no longer synonymous with boring, defensive football. In fact, it's quite the opposite. This tactical report will show the change in quality of player Italy has produced since their last feature in a major international tournament.
Below is what is expected of the Italian national team, with the only spot of contention being Locatelli's. Verratti is by no-means a poor player, but Locatelli seems to be the best option for Roberto Mancini and the style of play he wants his team to play in. Nevertheless, Verratti will likely play a role in Italy's success this tournament, he may even take Locatelli's starting spot in this expected starting lineup.
ITALY'S PREDICTED LINEUP
________________
DEFENCE (STRATEGY AND PERSONNEL)
Defensively, the Italians can be expected to shift into a structure that resembles a 4-5-1. The defenders will tuck inside to form a more narrow backline. Jorginho will stay between the back four and midfield, while Locatelli/Verratti and Barella can be found in the half-spaces. This is done so that there are as few opposing central passing options as possible.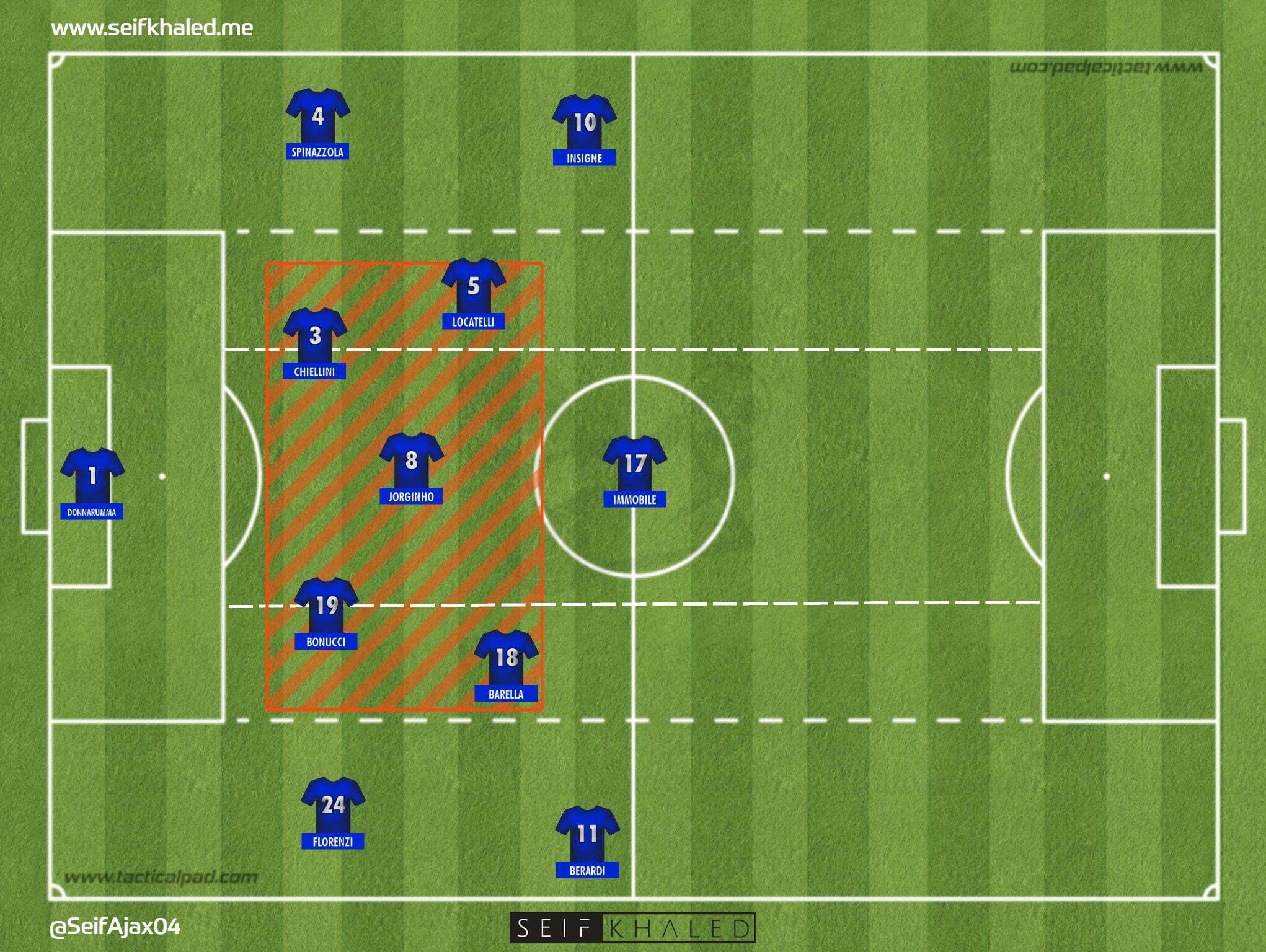 Insigne and Berardi will not have as many defensive responsibilities as their midfield teammates. Their responsibilities are to remain wide and act as passing options should Italy win the ball back, allowing a quick counter-attack. Italy do not rely on counter-attacking tactics but are confident and know what to do in transitions.
When the ball is won Italy will target the space between opposition centre-backs and fullbacks. This is done because in order to overload the Italian low-block, attacking teams must commit numbers forward, often the fullbacks. Therefore, this allows an easy decision for the Italian ball winner to make when questioning where they need to pass to during transitions.

________________
ITALY IN THE MIDDLE THIRD

MIDFIELD (STRATEGY AND PERSONNEL)
As play moves from the first third to the middle third, the Italian attacking structure begins to reveal itself. One of the fullbacks will go forward, likely Florenzi, while the other stays back, likely Spinazzola or Acerbi. The central defenders will shift to the side of the pitch that has been left vacant by the attacking fullback.
Jorginho will be the deepest midfielder of the expected three. His role involves moving the ball from defence to attack, maintaining possession with his midfield partners while also being asked to break up opposition attacks. Locatelli or Verratti will play on the left side of the midfield three with permission to move centrally as like a more traditional #10 player.
Barella will play in the same role as he has for Inter this season, and that is as the right half-space #8. His job is to link play between the right sided forward and fullback. This will overload the defending team's left sided defenders.
Insigne and Berardi are both inverted wingers for their clubs, meaning they start on the side that favors their weakest foot. However they're both comfortable playing on either side of the forward line, so their starting positions are just that; they will switch sides often.
________________
ITALY IN THE FINAL THIRD

ATTACK (STRATEGY AND PERSONNEL)
Once play enters the final third the Italian shape comes to light. The defenders have shifted according to the space left behind the attacking fullback, Florenzi in the example above, as he joins the forward line.
Jorginho is the most important part of the Italian set up when they attack. He will help recycle possession if there are no immediate breakthroughs. His key passing options will be Locatelli/Verratti who take up a more advanced role in the left half-space or centrally if allowed, while Barella exclusively remains in the right half-space.
Florenzi adds width to the right side, meaning that the starting right sided forward tucks inside acting as a second center-forward. Immobile and Berardi will occupy the opposition central-defenders, while Insigne can be expected to make late runs that go around the fullback that marks him.
This attacking structure allows Italy to overload defending teams left sided defenders and occupy the central defenders. If this doesn't create immediate goal scoring opportunities, Italy are able to recycle possession through Locatelli, Barella and Jorginho, all of which are confident under pressure in the final third.
Italy are packed with attacking talent, something they missed dearly during their Euro 2016 and World Cup 2018 qualification campaigns. Not pictured above are Federico Chiesa (15 goals and 11 assists in all competitions) and Andrea Belotti (13 goals and 7 assists in all competitions) who join Italy on the bench. For the first time in what seems like ages, Italy has quality depth in all areas. It's a good problem to have.