Welcome to the complete list of Wonderkids Football Manager 2023 by Seif Khaled.
Football Manager 2023 wonderkids advanced guide
When it comes to Wonderkids lists, you already know that Seifkhaled.me is the place to be for the ultimate accuracy and detail.
As always, this will be the most up-to-date and comprehensive list of Football Manager 2023 wonderkids available.
Football Manager fans may rely on this list to find all FM 2023 wonderkids.
As you have learnt to expect from us, There are also the customary one-of-a-kind features that bring incomparable depth, insight, and functionality.
What are wonderkids?
Wonderkids are in-game players with high prospective talent (at least a PA of 150) who are under the age of 20 on June 27th, 2022 (early pre-season in England).
This list contains the finest young FM23 players.
Some will already be labelled as wonderkids, while others should be on their way, and still others will struggle to live up to their promise before the age of 21.
My rating (R) explained:
For your convenience, this is my own recommendation system.
It is my personal estimate of the young players listed below's prospective development.
To be fair, my ranking represents the player's average PA in a range situation or the maximum PA in a case it's fixed..
I'm using a 1-100 scale based on English divisions.
81+ all-time elite player
78-80 great player for premiership
75-77 solid backup for premiership
72-74 top player for championship
71- top player for league one
(1) FM 2023 Goalkeeper Wonderkids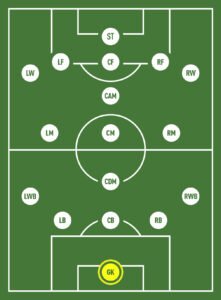 | R | Name | Age | Club | Nat |
| --- | --- | --- | --- | --- |
| 84 | Caprile, Elia | 20 | Bari | |
| 84 | Trubin, Anatolii | 20 | Shakhtar | |
| 83 | Bazunu, Gavin | 20 | Southampton | |
| 83 | Yusufu, Faaris | 17 | Schalke 04 | |
| 83 | Turati, Stefano | 20 | Sassuolo | |
| 82 | Slonina, Gabriel | 18 | Chelsea | |
| 82 | Owusu-Oduro, Rome-Jayden | 17 | AZ | |
| 82 | Gomes, André | 17 | SLB | |
| 82 | Seimen, Dennis | 16 | VfB Stuttgart | |
| 81 | Chevalier, Lucas | 20 | LOSC | |
| 81 | Cañizares, Lucas | 20 | R. Madrid | |
| 81 | Iker Álvarez | 20 | Villarreal | |
| 80 | Setford, Charlie | 18 | Ajax | |
| 79 | Matheus Donelli | 20 | COR | |
| 79 | Diego Callai | 17 | Sporting CP | |
| 79 | van Sas, Mikki | 18 | Man City | |
| 79 | Iturbe, Alejandro | 18 | A. Madrid | |
| 79 | Podlech, Luca | 17 | Schalke 04 | |
| 78 | Ahumada, Tomas | 20 | Audax Italiano | |
| 78 | Atubolu, Noah | 20 | SC Freiburg | |
| 78 | Jorgensen, Filip | 20 | Villarreal | |
| 78 | Luiz Turatto | 16 | JUV | |
| 78 | Olschowsky, Jan | 20 | Gladbach | |
| 78 | Nwosu, Nathaniel | 16 | Water F.C. (NGA) | |
| 78 | Valdimarsson, Hákon Rafn | 20 | IF Elfsborg | |
| 78 | Ribeiro, Goncalo | 16 | FC Porto | |
| 77 | Vandevoordt, Maarten | 20 | KRC Genk | |
| 77 | Boyce-Clarke, Coniah | 19 | Reading | |
| 77 | Neshcheret, Ruslan | 20 | Dynamo Kyiv | |
| 77 | Tobiasz, Kacper | 19 | Legia | |
| 77 | Padilla, Álex | 18 | A. Bilbao | |
| 76 | Bajic, Stefan | 20 | Bristol City | |
| 76 | Mycael | 18 | ATP | |
| 76 | Griffiths, Josh | 20 | West Brom | |
| 76 | Setford, Tommy | 16 | Ajax | |
| 76 | Göschl, Benjamin | 16 | SK Rapid Vienna | |
| 76 | Johnson, Murray | 17 | Hibernian | |
| 75 | Shanisehl, Jaafar | 19 | Al-Mina'a | |
| 75 | Patouillet, Mathieu | 18 | OL | |
| 75 | Khudyakov, Daniil | 18 | Lokomotiv Moscow | |
| 74 | Pinto, Diogo | 18 | Sporting CP | |
| 74 | Quetglas, Ferrán | 17 | R. Madrid | |
| 72 | Raveyre, Noah | 17 | ASSE | |
(2) FM 2023 Centre-Back Wonderkids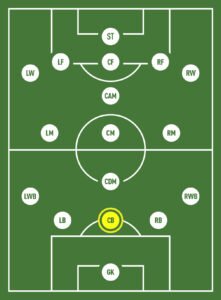 | R | Name | Age | Pos | Club | Nat |
| --- | --- | --- | --- | --- | --- |
| 86 | Scalvini, Giorgio | 18 | DC, DM | Atalanta | |
| 86 | Nianzou, Tanguy | 20 | DC, DM, MC | Sevilla | |
| 85 | Diomande, Ousmane | 18 | DC | Sporting CP | |
| 85 | Colwill, Levi | 19 | DLC | Chelsea | |
| 85 | Silva, António | 18 | DC | SLB | |
| 85 | Thiaw, Malick | 20 | DC | Milan | |
| 84 | Okoli, Caleb | 20 | DC | Atalanta | |
| 84 | Bitshiabu, El Chadaille | 17 | DC | PSG | |
| 83 | Morato | 20 | DC | SLB | |
| 83 | Enzo Boyomo | 20 | DRC | Albacete | |
| 83 | Viti, Mattia | 20 | DC | OGC Nice | |
| 83 | Coppola, Diego | 18 | DC | Verona | |
| 83 | Zabarnyi, Illia | 19 | DC | Bournemouth | |
| 83 | Hincapié, Piero | 20 | DLC | Bayer 04 | |
| 83 | Amey, Wisdom | 16 | DRC | Bologna | |
| 82 | Omobamidele, Andrew | 20 | DC | Norwich | |
| 82 | Lukeba, Castello | 19 | DC | OL | |
| 82 | Estève, Maxime | 20 | DC | Montpellier | |
| 82 | Inácio, Gonçalo | 20 | DC | Sporting CP | |
| 82 | Bella-Kotchap, Armel | 20 | DC | Southampton | |
| 82 | Kaiky | 18 | DC | Almería | |
| 82 | Yoro, Leny | 16 | DC | LOSC | |
| 81 | Gomez, James | 20 | DC | AC Horsens | |
| 81 | Pacho, William | 20 | DC | Antwerp | |
| 81 | Ávila, Gastón | 20 | DC | Antwerp | |
| 81 | Ramón, Pablo | 20 | DRC | R. Madrid | |
| 81 | Robert Renan | 18 | DC | Zenit | |
| 81 | Buchmann, Tarek | 17 | DC | FC Bayern | |
| 80 | Goes, Wouter | 18 | DRC, DM | AZ | |
| 80 | Mwanga, Junior | 19 | DC, DM | Bordeaux | |
| 80 | Tchaptchet, Allan | 20 | DC | Grenoble | |
| 80 | Vitik, Martin | 19 | DC, DM | Sparta Prague | |
| 80 | Butera, Ethan | 16 | DC, DM | RSC Anderlecht | |
| 80 | Greiml, Leo | 20 | DC | Schalke 04 | |
| 80 | Cresswell, Charlie | 19 | DC | Leeds | |
| 80 | Branthwaite, Jarrad | 20 | DRLC | Everton | |
| 80 | van den Berg, Sepp | 20 | DRC, WBR | Liverpool | |
| 80 | Guzmán, Víctor | 20 | DC | Monterrey | |
| 80 | Nagalo, Adamo | 19 | DRC | FC Nordsjælland | |
| 80 | Mosquera, Christian | 18 | DRC | Valencia | |
| 80 | Marín, Rafa | 20 | DC | R. Madrid | |
| 80 | Marsà, José | 20 | DLC | Sporting CP | |
| 79 | Binks, Lewis | 20 | DC | Bologna | |
| 79 | Dragusin, Radu | 20 | DRC | Juventus | |
| 79 | Gimenez, Ulises | 16 | DRC | River | |
| 79 | Sylla, Abakar | 19 | DC | Club Brugge | |
| 79 | Lomónaco, Kevin | 20 | DC | BRA | |
| 79 | Harwood-Bellis, Taylor | 20 | DRC | Man City | |
| 79 | Pollock, Mattie | 20 | DC | Watford | |
| 79 | Rekik, Omar | 20 | DC, DM | Arsenal | |
| 79 | Omeragic, Becir | 20 | DC | Zürich | |
| 79 | Amaro, André | 19 | DC | VTSC | |
| 79 | Mbete, Luke | 18 | DC | Man City | |
| 79 | Kaplan, Ahmetcan | 19 | DC | Ajax | |
| 79 | Somolinos, Fernando | 20 | DC | S. Gijón | |
| 79 | Morgalla, Leandro | 17 | DRC | 1860 München | |
| 79 | Salas, Kike | 20 | DC | Sevilla | |
| 79 | Fonseca, João | 15 | DC | SLB | |
| 79 | Belocian, Jeanuel | 17 | DLC, DM | Rennes | |
| 79 | Mane, Filippo | 17 | DRC | Borussia Dortmund | |
| 78 | Ferro, Andres | 20 | DC | Metropolitanos | |
| 78 | Luizao | 20 | DC | West Ham | |
| 78 | Debast, Zeno | 18 | DC, DM | RSC Anderlecht | |
| 78 | Vuškovic, Mario | 20 | DC, DM | HSV | |
| 78 | Burns, Finley | 19 | DC | Man City | |
| 78 | Edwards, Ronnie | 19 | DC | Peterborough | |
| 78 | Cittadini, Giorgio | 20 | DC | Atalanta | |
| 78 | Fontanarosa, Alessandro | 19 | DLC | Inter | |
| 78 | González, Daniel | 20 | DC | Universidad Católica | |
| 78 | Vinhas, David | 19 | DC | FC Porto | |
| 78 | Quaresma, Eduardo | 20 | DC | Sporting CP | |
| 78 | Stergiou, Leonidas | 20 | DC | St. Gallen | |
| 78 | Smith, Kerr | 17 | DRC | Aston Villa | |
| 78 | González, Facundo | 19 | DC | Valencia | |
| 78 | Doyle, Callum | 18 | DLC | Man City | |
| 78 | Bamba, Ibrahima | 20 | DC, DM | VTSC | |
| 78 | Gómez, Valentín | 19 | DC | Vélez | |
| 78 | Sarr, Mamadou | 16 | DC, DM | OL | |
| 78 | Zeze, Nathan | 17 | DC | FC Nantes | |
| 78 | McArthur, Charlie | 17 | DC | Newcastle | |
| 78 | Phillips, Ashley | 17 | DC | Blackburn | |
| 78 | Vázquez, Jaime | 16 | DC | R. Madrid | |
| 78 | Baptiste, Jamal | 18 | DC | West Ham | |
| 77 | Monamay, Madi | 16 | DC | Bayer 04 | |
| 77 | Ramos Mingo, Santiago | 20 | DC | OHL | |
| 77 | Querfeld, Leopold | 18 | DC, DM | SK Rapid Vienna | |
| 77 | Dárdai, Márton | 20 | DC, DM | Hertha Berlin | |
| 77 | Dekker, Maxim | 18 | DC | AZ | |
| 77 | Faryna, Marian | 18 | DLC | Shakhtar | |
| 77 | Iranzo, Rubén | 19 | DC | Valencia | |
| 77 | Carrillo, Álvaro | 20 | DC | R. Madrid | |
| 77 | Michel | 19 | DC | SEP | |
| 77 | Dorrington, Alfie | 17 | DC | Tottenham | |
| 77 | Jair | 17 | DC | SAN | |
| 77 | Meupiyou, Bastien | 16 | DC, DM | FC Nantes | |
| 77 | Gaspar, Guilherme | 16 | DC | SLB | |
| 76 | Lacroix, Lenny | 19 | DC | SLB | |
| 76 | Gechter, Linus | 18 | DC | Hertha Berlin | |
| 76 | Beraldo | 18 | DC, DM | SPO | |
| 76 | Feeney, Josh | 17 | DC | Aston Villa | |
| 76 | Ramón, Jacobo | 17 | DC | R. Madrid | |
| 75 | Hill, James | 20 | DLC | Bournemouth | |
| 75 | Seelt, Jenson | 19 | DC | PSV | |
| 75 | van de Blaak, Emmanuel | 17 | DC | PSV | |
| 75 | Collins, Nnamdi | 18 | DC | Borussia Dortmund | |
| 75 | Jackson, Louis | 16 | DC | Man UFC | |
| 75 | Elyaz | 16 | DLC, WBL | R. Madrid | |
| 73 | Akomeah, Travis | 16 | DC | Chelsea | |
(3) FM 2023 Left Full-Back Wonderkids
| R | Name | Age | Pos | Club | Nat |
| --- | --- | --- | --- | --- | --- |
| 88 | Gvardiol, Joško | 20 | DLC | RB Leipzig | |
| 86 | Mendes, Nuno | 20 | D/WBL | PSG | |
| 85 | Udogie, Destiny | 19 | D/WB/ML | Tottenham | |
| 85 | Zalewski, Nicola | 20 | D/WB/M/AML | AS Roma | |
| 84 | Gutiérrez, Miguel | 20 | D/WBL | Girona | |
| 84 | Balde, Alejandro | 18 | D/WB/M/AML | Barcelona | |
| 84 | Vázquez, Jesús | 19 | D/WB/ML | Valencia | |
| 83 | Truffert, Adrien | 20 | D/ML | Rennes | |
| 83 | Hickey, Aaron | 20 | D/WBRL | Brentford | |
| 83 | Doig, Josh | 20 | D/WBL | Verona | |
| 83 | Netz, Luca | 19 | D/WB/ML | Borussia M'gladbach | |
| 82 | Campos, Omar | 19 | WB/ML | Santos Laguna | |
| 82 | N'Diaye, Amadou | 17 | DL | AS Pikine | |
| 82 | Aznou, Adam | 16 | D/WBL | FC Bayern | |
| 82 | Esquerdinha | 16 | D/WBL | FLU | |
| 81 | Kristiansen, Victor | 19 | D/WBL | FC København | |
| 81 | De la Víbora, David | 19 | D/WB/ML | R. Madrid | |
| 81 | Kerkez, Miloš | 18 | D/WB/ML | AZ | |
| 81 | Barco, Valentín | 17 | D/WB/ML | Boca | |
| 81 | Breinburg, Rainey | 16 | D/WBL | Feyenoord | |
| 81 | Galvez, Tomas | 17 | D/WBL | Man City | |
| 81 | Børset, Anders | 16 | DLC, WBL | Molde | |
| 81 | Dedić, Amar | 19 | DRL | FC RB Salzburg | |
| 80 | Muñoz, Iván | 20 | DLC | Valencia | |
| 80 | Mármol, Mika | 20 | DLC | F.C. Andorra | |
| 80 | Guindo, Daouda | 19 | DLC | FC RB Salzburg | |
| 80 | Carboni, Franco | 19 | D/WB/M/AML | Inter | |
| 80 | Álvaro Fernández | 19 | D/WBL | Man UFC | |
| 80 | Samuels-Smith, Ishé | 16 | DLC, WBL | Everton | |
| 79 | Merlin, Quentin | 20 | D/WB/M/AML | FC Nantes | |
| 79 | Larios, Juan | 18 | D/WBL | Southampton | |
| 79 | Araujo, Harvey | 17 | DLC, WBL | Fulham | |
| 79 | Aning, Prince | 18 | D/WBL | Borussia Dortmund | |
| 78 | Patryck Lanza | 19 | D/WBL | SPO | |
| 78 | Corral, Adrián | 19 | D/WBL | A. Madrid | |
| 78 | Rothe, Tom | 17 | D/WB/M/L | Borussia Dortmund | |
| 77 | Riquelme | 19 | D/WBL | VDG | |
| 77 | Leidner, Doron | 20 | D/WB/ML | Olympiacos | |
| 77 | Manhoef, Million | 20 | D/WB/M/AMRL | Vitesse | |
| 76 | Maatsen, Ian | 20 | D/WBL, MC | Chelsea | |
| 76 | Adaramola, Tayo | 18 | D/WBL | Crystal Palace | |
| 75 | El Sheiwi, Ziad | 18 | DL | FK Austria Vienna | |
(4) FM 2023 right Full-Back Wonderkids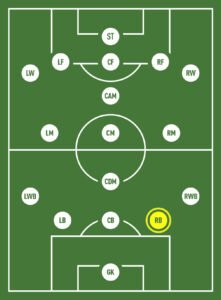 | R | Name | Age | Pos | Club | Nat |
| --- | --- | --- | --- | --- | --- |
| 85 | Livramento, Tino | 19 | D/WBR | Southampton | |
| 85 | Fernandes, Martim | 16 | D/WBR | FC Porto | |
| 83 | Rensch, Devyne | 19 | DRLC, WBR, DM | Ajax | |
| 83 | Patterson, Nathan | 20 | D/WBR | Everton | |
| 83 | Carmona, José Ángel | 20 | DRC | Sevilla | |
| 82 | Nathan | 20 | D/WB/MR | SAN | |
| 82 | Gusto, Malo | 19 | D/WBR, MC | OL | |
| 82 | Scally, Joe | 19 | D/WBRL | Borussia M'gladbach | |
| 81 | Francés, Alejandro | 19 | DRLC | Zaragoza | |
| 81 | Pembélé, Timothée | 19 | DRC | PSG | |
| 81 | Pinheiro, Rodrigo | 19 | D/WBR | FC Porto | |
| 81 | Esteves, Tomás | 20 | D/WBR | FC Porto | |
| 81 | Giay, Agustín | 18 | D/WBR, MC | San Lorenzo | |
| 81 | Wormleighton, Joe | 18 | D/WB/MR | Leicester | |
| 81 | Dijkstra, Elijah | 15 | D/WBRL | AZ | |
| 80 | Lara, Emilio | 20 | DRC | América | |
| 80 | Van Der Brempt, Ignace | 20 | D/WB/MR | FC RB Salzburg | |
| 80 | Bradley, Conor | 18 | D/WB/MR | Liverpool | |
| 80 | Terracciano, Filippo | 19 | D/WB/MR | Verona | |
| 80 | Ramsay, Calvin | 18 | D/WBR | Liverpool | |
| 80 | Joseda | 20 | DRC | Valencia | |
| 80 | Mosquera, Juan David | 19 | D/WBR | Portland | |
| 80 | Travassos, Diogo | 18 | DRL, WB/AMR | Sporting CP | |
| 80 | Mastoras, Enoch | 16 | DRC, WBR, DM, MR | AZ | |
| 80 | Fresneda, Iván | 17 | DR | Valladolid | |
| 80 | Sildillia, Kiliann | 20 | DRC, WBR | SC Freiburg | |
| 79 | Jasic, Adis | 19 | D/WBR, MRC | Wolfsberger AC | |
| 79 | Siquet, Hugo | 19 | DRC, WBR | SC Freiburg | |
| 79 | Kesler Hayden, Kaine | 19 | D/WB/MR | Aston Villa | |
| 79 | Hoever, Ki-Jana | 20 | DRC, WBR | Wolves | |
| 79 | Soppy, Brandon | 20 | D/WBRL, MR | Atalanta | |
| 79 | Esteves, Gonçalo | 18 | D/WBR | Sporting CP | |
| 79 | Almeida, Tiago | 20 | D/WB/MR | TND | |
| 78 | Yan Couto | 20 | D/WBR | Man City | |
| 78 | Laird, Ethan | 20 | D/WBRL | Man UFC | |
| 78 | Norton-Cuffy, Brooke | 18 | D/WBR | Arsenal | |
| 78 | Lewis, Rico | 17 | DRL, WBR, DM | Man City | |
| 78 | Kumbedi, Saël | 17 | D/WBR | OL | |
| 77 | Trilli | 19 | DRC, WBR | Coruña | |
| 77 | Santos, Tiago | 19 | D/WB/MR | Estoril Praia | |
| 77 | Spencer, Diogo | 18 | D/WBRL | SLB | |
| 77 | Xavi | 17 | DR | Levante | |
| 76 | Arnau Martínez | 19 | DRC, WBR | Girona | |
| 76 | Walters, Reuell | 17 | DRLC, WBR | Arsenal | |
| 75 | Vinicius Tobias | 18 | D/WBR | R. Madrid | |
| 74 | Roi Torres | 16 | D/WBR | R. Madrid | |
(5) FM 2023 Defensive Midfielders Wonderkids
| R | Name | Age | Pos | Club | Nat |
| --- | --- | --- | --- | --- | --- |
| 91 | Camavinga, Eduardo | 19 | DM, MC | R. Madrid | |
| 87 | Zaïre-Emery, Warren | 16 | DM, MC | PSG | |
| 85 | Faticanti, Giacomo | 17 | DM, MC | AS Roma | |
| 84 | Lavia, Roméo | 18 | DM, MC | Southampton | |
| 84 | Aséko Nkili, Noël | 16 | DM, MC | FC Bayern | |
| 83 | Rovella, Nicolò | 20 | DM, MC | Juventus | |
| 83 | Luís, Rafael | 17 | DM, MC | SLB | |
| 82 | Morton, Tyler | 19 | DM, MC | Liverpool | |
| 82 | Bove, Edoardo | 20 | DM, MC | AS Roma | |
| 82 | Mukhin, Maxim | 20 | DM, MC | CSKA Moscow | |
| 82 | Essugo, Dário | 17 | DM, MC | Sporting CP | |
| 82 | Fabbian, Giovanni | 19 | DM, MC | Inter | |
| 82 | Litvinov, Ruslan | 20 | DC, DM | Spartak Moscow | |
| 81 | Perrone, Máximo | 19 | DM, MC | Vélez | |
| 81 | Varela, Alan | 20 | DM, MC | Boca | |
| 81 | Chotard, Joris | 20 | DM, MC | Montpellier | |
| 80 | Bertini, Marco | 19 | DM, MC | Lazio | |
| 80 | Gourna-Douath, Lucas | 18 | DM, MC | FC RB Salzburg | |
| 80 | Díaz, Fabricio | 19 | DM, MC | Liverpool F.C. | |
| 80 | Félix, Nuno | 18 | DM, MC | SLB | |
| 80 | Aydin, Eyüp | 17 | DM, MC | FC Bayern | |
| 80 | Bulat, Marko | 20 | DM, MC | Dinamo | |
| 80 | Diouf, Andy | 19 | DM, MC | Rennes | |
| 80 | Okon, Paul | 17 | DM | SLB | |
| 79 | Samek, Daniel | 18 | DM | Salento | |
| 78 | Bajcetic, Stefan | 17 | DC, DM | Liverpool | |
| 78 | Diogo Monteiro | 17 | DC, DM | Servette | |
| 78 | Butera, Ethan | 16 | DC, DM | RSC Anderlecht | |
| 78 | Turrientes, Beñat | 20 | DM, MC | Real San Sebastián | |
| 78 | Mbamba, Noah | 17 | DM | Club Brugge | |
| 77 | Aertssen, Olivier | 17 | DC, DM | Ajax | |
| 77 | Ambríz, Fidel | 19 | DM | León | |
| 77 | Martel, Eric | 20 | DM | 1. FC Köln | |
| 76 | Quintana, Alberto | 20 | DC, DM, MC | Valladolid | |
| 76 | Carse, MacKenzie | 18 | DM, MC | Celtic | |
| 76 | Kamara, Abdoulaye | 17 | DM | Borussia Dortmund | |
| 75 | Martinelli | 20 | DM, MC | FLU | |
| 75 | Pizzuto, Eugenio | 20 | DM, MC | BRG | |
| 75 | Appiah, Avery | 16 | DM, MC | Ajax | |
| 75 | Matheus Ferreira | 16 | DM, MC | VDG | |
| 75 | Verkuijl, Mark | 16 | DC, DM | Ajax | |
| 74 | Comenencia, Livano | 18 | D/WBRL, DM | PSV | |
| 74 | Ferreira, Martim | 16 | DM | SLB | |
| 73 | Diambou, Mamady | 19 | DM | FC RB Salzburg | |
| 73 | Martinelli | 20 | DM, MC | FLU | |
| 73 | Matheus Ferreira | 16 | DM, MC | VDG | |
| 75 | Verkuijl, Mark | 16 | DC, DM | Ajax | |
(6) FM 2023 Central Midfielders Wonderkids
| R | Name | Age | Pos | Club | Nat |
| --- | --- | --- | --- | --- | --- |
| 80 | Aas, Syver | 18 | MC | Odd | |
| 79 | Agoume, Lucien | 20 | DM, M/AMC | Inter | |
| 81 | Ahamada, Naouirou | 20 | DM, MC | Crystal Palace | |
| 79 | Alcaraz, Carlos | 19 | M/AMC | Southampton | |
| 78 | Alexandropoulos, Sotiris | 20 | DM, MC | Sporting CP | |
| 83 | Andrey Santos | 18 | DM, MC | Chelsea | |
| 83 | André | 20 | DM, MC | FLU | |
| 83 | Asllani, Kristjan | 20 | DM, M/AMC | Empoli | |
| 80 | Ayala, David | 19 | DM, MC | Portland | |
| 79 | Ba, Abdoullah | 18 | M/AMC | Sunderland | |
| 80 | Baleba, Carlos | 18 | DM, MC | LOSC Lille | |
| 84 | Barrios, Pablo | 19 | MC | A. Madrid | |
| 81 | Bate, Lewis | 19 | DM, MC | Leeds | |
| 84 | Baturina, Martin | 19 | M/AMC | Dinamo | |
| 80 | Bellingham, Jobe | 16 | MC | Birmingham | |
| 90 | Bellingham, Jude | 18 | DM, MC | Borussia Dortmund | |
| 81 | Bernardo, Paulo | 20 | MC | SLB | |
| 79 | Bogusz, Mateusz | 20 | M/AMC | Leeds | |
| 77 | Bondo, Warren | 18 | M/AMC | Brianza | |
| 77 | Bouabré, Saïmon | 16 | MC | AS Monaco | |
| 77 | Bouchouari, Benjamin | 20 | M/AMC | ASSE | |
| 83 | Braybrooke, Sammy | 18 | DM, MC | Leicester | |
| 78 | Breno Bidon | 17 | DM, MC | COR | |
| 79 | Busio, Gianluca | 20 | DM, M/AMC | Venezia | |
| 89 | Caicedo, Moisés | 20 | DM, MC | Brighton | |
| 87 | Casadei, Cesare | 19 | DM, M/AMC | Chelsea | |
| 79 | Chaïbi, Fares | 19 | MC | Toulouse FC | |
| 80 | Chukwuemeka, Carney | 18 | M/AMC | Chelsea | |
| 85 | Ciammaglichella, Aaron | 17 | M/AMC | Torino | |
| 82 | Cucalón, Marc | 17 | DM, MC | R. Madrid | |
| 77 | Dalla Riva, Stefano | 16 | DM, MC | Verona | |
| 80 | Dani Pérez | 16 | M/AMC | Real Hispalis | |
| 78 | Dermane, Karim | 18 | DM, MC | Feyenoord | |
| 84 | Devine, Alfie | 17 | DM, M/AMC | Tottenham | |
| 77 | Diallo, Samba | 19 | DM, MC | Reims | |
| 85 | Doué, Désiré | 17 | M/AMC | Rennes | |
| 82 | Doyle, Tommy | 20 | DM, MC | Man City | |
| 84 | El Arouch, Mohamed | 18 | DM, M/AMC | OL | |
| 79 | El Jebari, Salim | 18 | M/AMC | A. Madrid | |
| 83 | Eletu, Victor | 17 | DM, MC | Milan | |
| 78 | Figueiredo | 16 | DM, M/AMC | SEP | |
| 81 | Fitz-Jim, Kian | 18 | WBRL, DM, MLC | Ajax | |
| 79 | Folha, Bernardo | 20 | M/AMC | FC Porto | |
| 79 | Francho | 20 | DM, MC | Zaragoza | |
| 77 | Fuhrer, Pape | 16 | M/AMC | OL | |
| 78 | Gabriel Pirani | 20 | MC | SAN | |
| 89 | Gavi | 17 | DM, M/AMC | Barcelona | |
| 78 | Golding, Michael | 16 | DM, M/AMC | Chelsea | |
| 81 | Gomes, André | 16 | M/AMC | SLB | |
| 80 | Gore, Daniel | 17 | DM, MC | Man UFC | |
| 83 | Gravenberch, Ryan | 20 | DM, M/AMC | FC Bayern | |
| 87 | Gray, Archie | 16 | MC | Leeds | |
| 80 | Gyabi, Darko | 18 | M/AMC | Leeds | |
| 79 | Gyabuaa, Emmanuel | 20 | DM, MC | Atalanta | |
| 78 | Hackney, Hayden | 20 | DM, MC | Middlesbrough | |
| 78 | Hall, George | 18 | DM, M/AMC | Birmingham | |
| 79 | Harrison, Alfie | 16 | M/AMC | Man City | |
| 86 | Ilaix Moriba | 19 | DM, M/AMC | RB Leipzig | |
| 77 | Infantino, Gino | 19 | MC, AMRLC | Rosario Central | |
| 78 | Iroegbunam, Tim | 19 | DM, MC | Aston Villa | |
| 83 | Kari, Ayman | 17 | MC | PSG | |
| 78 | Kelly, Daniel | 16 | MC | Celtic | |
| 79 | Kleijn, Mike | 17 | MC | Feyenoord | |
| 81 | Koba Lein | 20 | MC | Valencia | |
| 78 | Kone, Ismael | 20 | DM, M/AMC | Watford | |
| 80 | Kovalenko, Alexandr | 18 | DM, M/AMC | Sochi | |
| 80 | Land, Tygo | 16 | DM, M/AMC | PSV | |
| 80 | Larsson, Hugo | 18 | DM, MC | Malmo FF | |
| 77 | Lopy, Dion | 20 | DM, MC | Reims | |
| 83 | Mainoo, Kobbie | 17 | DM, M/AMC | Man UFC | |
| 81 | Massengo, Han-Noah | 20 | DM, MC | Bristol City | |
| 80 | Matazo, Eliot | 20 | DM, MRC | AS Monaco | |
| 84 | Matheus França | 18 | M/AMC | FLA | |
| 76 | McAllister, Reuben | 16 | M/AMC | Hibernian | |
| 78 | Medina, Cristian | 20 | MRC | Boca | |
| 80 | Milanese, Tommaso | 19 | M/AMC | Cremonese | |
| 87 | Miretti, Fabio | 18 | MC | Juventus | |
| 82 | Misehouy, Gabriël | 16 | M/AMC | Ajax | |
| 81 | N'Guessan, Jean | 19 | MC | OGC Nice | |
| 86 | Nakai, Takuhiro | 18 | M/AMC | R. Madrid | |
| 79 | Nardoni, Juan Ignacio | 19 | DM, MC | Racing Club | |
| 79 | Ndiaye, Rassoul | 20 | MC, M/AMR | FCSM | |
| 79 | Ndour, Cher | 17 | M/AMC | SLB | |
| 80 | Neto, Martim | 19 | MC | SLB | |
| 85 | Neves, João | 17 | M/AMC | SLB | |
| 82 | Oliveira, Andre | 16 | MC | FC Porto | |
| 84 | Ouédraogo, Assan | 16 | M/AMC | Schalke 04 | |
| 84 | Patino, Charlie | 18 | DM, MC | Arsenal | |
| 78 | Praxedes | 20 | M/AMC | BRA | |
| 82 | Puerta, Gustavo | 18 | MC | Bayer 04 | |
| 83 | Ramon Sandigo, Tristan | 16 | MC, AMRL | Kolbu/KK | |
| 75 | Rath, Davis | 16 | M/AMC | HSV | |
| 86 | Ricci, Samuele | 20 | DM, MC | Torino | |
| 85 | Rieder, Fabian | 20 | M/AMC | Young Boys | |
| 81 | Rønningen Jørgensen, Filip | 20 | DM, MC | Odd | |
| 81 | Salmani, Yasin | 20 | DM, M/AMC | Bayer 04 | |
| 80 | Sandry | 19 | MC | SAN | |
| 83 | Sarr, Pape Matar | 19 | MC | Tottenham | |
| 78 | Segovia, Telasco | 19 | DM, MC | Deportivo Lara | |
| 83 | Simons, Xavi | 19 | M/AMC | PSV | |
| 78 | Sljivic, Jovan | 16 | M/AMC | Crvena Zvezda | |
| 79 | Smit, Kees | 16 | DM, MC | AZ | |
| 76 | Solís, Jhon | 17 | MC | Atlético Nacional | |
| 80 | Sucic, Luka | 19 | M/AMC | FC RB Salzburg | |
| 83 | Sudakov, Heorhii | 19 | MC, AMLC | Shakhtar | |
| 84 | Swedberg, Williot | 18 | MC, AMRLC, ST | Vigo | |
| 78 | Sylla, Fodé | 16 | MC | RC Lens | |
| 79 | Tahirovic, Benjamin | 19 | DM, M/AMC | Capitoline | |
| 82 | Taylor, Kenneth | 20 | DM, M/AMC | Ajax | |
| 79 | Tessmann, Tanner | 20 | DM, MC | Venezia | |
| 77 | Ugochukwu, Lesley | 18 | DM, MC | Rennes | |
| 84 | Veiga, Gabri | 20 | M/AMC | Vigo | |
| 87 | Veloso, João | 17 | M/AMC | SLB | |
| 82 | Vos, Silvano | 17 | DC, DM, MC | Ajax | |
| 84 | Vranckx, Aster | 19 | DM, MC | VfL Wolfsburg | |
| 80 | Vrbancic, Luka | 17 | M/AMC | Dinamo | |
| 79 | Wagner, Robert | 18 | M/AMRLC | SC Freiburg | |
| 79 | Webster, Charlie | 18 | DM, M/AMC | Chelsea | |
| 81 | Wharton, Adam | 18 | DM, MC | Blackburn | |
| 78 | White, Harvey | 20 | DM, MC | Tottenham | |
| 80 | Yarmoliuk, Yehor | 18 | M/AMC | Brentford | |
| 80 | Zafeiris, Christos | 19 | DM, M/AMC | Slavia Prague | |
| 79 | Zeroli, Kevin | 17 | MC | Milan | |
| 78 | Álvarez, Hugo | 18 | M/AMC | Vigo | |
(7) FM 2023 Left Wing Wonderkids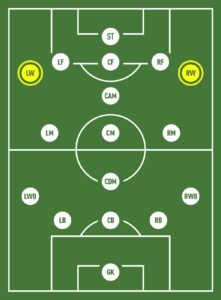 | R | Name | Age | Pos | Club | Nat |
| --- | --- | --- | --- | --- | --- |
| 90 | Fati, Ansu | 19 | AMRL, ST | Barcelona | |
| 90 | Schjelderup, Andreas | 18 | AML, ST | SLB | |
| 88 | Moleiro, Alberto | 18 | MC, AMLC | Las Palmas | |
| 86 | Paz, Nicolas | 17 | M/AMRL | R. Madrid | |
| 85 | Serrano, Nico | 19 | MRL, AMRLC | A. Bilbao | |
| 85 | Moreira, Diego | 17 | AMRL | SLB | |
| 85 | Kalokoh, David | 17 | AMRLC, ST | Ajax | |
| 85 | Anderson, Elliot | 19 | MC, AMRLC | Newcastle | |
| 84 | Diomandé, Mohammed | 20 | MC, AMLC | FC Nordsjælland | |
| 84 | Velasco, Alan | 19 | AMRLC, ST | FC Dallas | |
| 84 | Talles Magno | 20 | AMRLC, ST | NYCFC | |
| 84 | Ünüvar, Naci | 19 | AMLC, ST | Ajax | |
| 84 | Pinyaev, Sergey | 17 | ML, AMRL | Lokomotiv Moscow | |
| 84 | Barrenetxea, Ander | 20 | M/AMRL | Real San Sebastián | |
| 84 | Arribas, Sergio | 20 | ML, AMLC | R. Madrid | |
| 84 | Perea, Óscar | 16 | AMRL | Atlético Nacional | |
| 84 | Echeverri, Claudio | 16 | AMRLC, ST | River | |
| 83 | Millot, Enzo | 20 | MC, AMRLC | VfB Stuttgart | |
| 83 | Assadi, Lucas | 18 | AMLC | Universidad de Chile | |
| 83 | Gulliksen, Tobias | 18 | M/AMLC | Strømsgodset | |
| 83 | Daramy, Mohamed | 20 | AMRL, ST | Ajax | |
| 83 | Bøving, William | 19 | ML, AMRL, ST | SK Sturm Graz | |
| 83 | Carbonell, Luis | 19 | AML, ST | Zaragoza | |
| 83 | Shoretire, Shola | 18 | AMRLC | Man UFC | |
| 83 | van Axel Dongen, Amourricho | 17 | M/AML | Ajax | |
| 83 | Mella, David | 17 | M/AMRL | Coruña | |
| 83 | Duranville, Julien | 16 | AMRL | Borussia Dortmund | |
| 83 | Babadi, Isaac | 17 | M/AMRLC | PSV | |
| 83 | Garnacho, Alejandro | 17 | AMRL, ST | Man UFC | |
| 82 | Sarmiento, Jeremy | 20 | AMRL | Brighton | |
| 82 | Stroeykens, Mario | 17 | AMRLC, ST | RSC Anderlecht | |
| 82 | Gabriel Veron | 19 | AMRL, ST | FC Porto | |
| 82 | Lázaro | 20 | ML, AMRLC, ST | Almería | |
| 82 | Biuk, Stipe | 19 | ML, AMLC | LAFC | |
| 82 | Pereira, Henrique | 20 | AMRL | SLB | |
| 82 | Aranda, Óscar | 20 | AML, ST | R. Madrid | |
| 82 | Ez Abde | 20 | M/AMRL, ST | Barcelona | |
| 82 | Prestianni, Gianluca | 16 | AMRLC | Vélez | |
| 82 | Jurado, Heriberto | 17 | AML | Necaxa | |
| 82 | Ilie, Rares | 19 | MC, AMLC | OGC Nice | |
| 82 | Yang Hyeon-Jun | 20 | AMLC | Gangwon | |
| 81 | Hamache, Ilyes | 19 | AMRL | VAFC | |
| 81 | Martinez, David | 16 | AMRLC | Monagas SC | |
| 81 | Mundle, Romaine | 19 | MC, AMLC | Tottenham | |
| 81 | Doku, Jérémy | 20 | AMRL, ST | Rennes | |
| 81 | Stevanovic, Filip | 19 | AMRLC | Man City | |
| 81 | Ruiz, Daniel | 20 | AMRLC | Millonarios F.C. | |
| 81 | Kaminski, Jakub | 20 | M/AMRL | VfL Wolfsburg | |
| 81 | Pedrola, Estanis | 18 | AMRL, ST | Barcelona | |
| 81 | Domínguez, Benjamín | 18 | AML | Gimnasia (LP) | |
| 81 | Fabiano | 16 | AML | BOT | |
| 81 | Kruspzky, Facundo | 19 | AMLC, ST | Al-Wahda (UAE) | |
| 81 | Maldini, Daniel | 20 | AMRLC | Milan | |
| 81 | Navarro, Robert | 20 | AMRLC | Real San Sebastián | |
| 81 | Fernandes, Joelson | 19 | AMRL | Sporting CP | |
| 80 | Sarmiento, Darío | 19 | AMLC | Man City | |
| 80 | Matheus Martins | 18 | AMRL | Udinese | |
| 80 | Sulemana, Kamaldeen | 20 | M/AML | Southampton | |
| 80 | Enciso, Julio | 18 | AMRL | Brighton | |
| 80 | Bynoe-Gittens, Jamie | 17 | AMRL | Borussia Dortmund | |
| 80 | Lemina, Noah | 17 | AMRL | PSG | |
| 80 | Ndala, Joel | 16 | AMRL | Man City | |
| 80 | Gharbi, Ismaël | 18 | AMRLC | PSG | |
| 79 | Bakwa, Dilane | 19 | AMRL | Bordeaux | |
| 79 | Luís Henrique | 20 | ML, AMRL | OM | |
| 79 | Barcola, Bradley | 19 | AMRL, ST | OL | |
| 79 | Carrillo, Jordan | 20 | AMRL | Santos Laguna | |
| 79 | González, Bryan | 19 | M/AML | Pachuca | |
| 79 | Daal, Ro-Zangelo | 18 | AMRLC, ST | AZ | |
| 79 | Adingra, Simon | 20 | AML, ST | Brighton | |
| 79 | Violante, Isaías | 18 | ML, AMRL | Toluca | |
| 79 | Sali, Enes | 16 | AMRL | Farul Constanţa | |
| 79 | Alex | 16 | ML, AMRL | R. Madrid | |
| 79 | Philogene-Bidace, Jaden | 20 | AMRL | Aston Villa | |
| 79 | Babuscu, Onurhan | 18 | MC, AMLC | Gaziantep FK | |
| 78 | Thoresen Faraas, Benjamin | 16 | ML, AMRL, ST | HamKam | |
| 78 | Vite, Pedro | 20 | M/AMLC | Vancouver | |
| 78 | Zeballos, Exequiel | 20 | ML, AMRL | Boca | |
| 78 | De la Fuente, Konrad | 20 | M/AMRL | OM | |
| 78 | Banel, Jaydon | 17 | AMRL, ST | Ajax | |
| 78 | Redmond, Zepiqueno | 16 | AMRL, ST | Feyenoord | |
| 78 | Moran, Andrew | 18 | AMRLC | Brighton | |
| 77 | Atiq, Esam | 17 | AML | Al-Wasl | |
| 77 | Ceide, Emil | 20 | AMRL | Sassuolo | |
| 77 | Pantovic, Milos | 19 | AMRL, ST | Vozdovac | |
| 77 | Diallo, Samba | 19 | AMRL | Dynamo Kyiv | |
| 77 | Tibidi, Alexis | 18 | AMRLC, ST | Troyes | |
| 77 | Sliti, Aymen | 16 | AML | Feyenoord | |
| 77 | Vale, Harvey | 18 | AMRLC, ST | Chelsea | |
| 76 | Saleem, Sultan | 17 | M/AML | Al-Wasl | |
| 76 | Edozie, Samuel | 19 | AMRL | Southampton | |
| 76 | Alidou, Faride | 20 | M/AMRL | Eintracht Frankfurt | |
| 76 | Rukavina, Gabrijel | 18 | AMRL | Dinamo | |
| 76 | Popov, Chris | 17 | AMRLC, ST | Leicester | |
| 75 | Iling, Samuel | 18 | M/AML, ST | Juventus | |
| 72 | Olusegun, Olakunle | 20 | AMRL, ST | Krasnodar | |
(8) FM 2023 Right Wing Wonderkids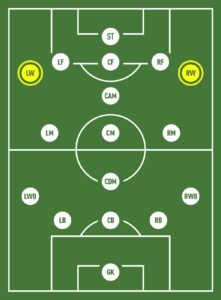 | R | Name | Age | Pos | Club | Nat |
| --- | --- | --- | --- | --- | --- |
| 94 | Saka, Bukayo | 20 | AMRL | Arsenal | |
| 92 | Elliott, Harvey | 19 | MC, AMRLC | Liverpool | |
| 90 | Pino, Yeremy | 19 | AMRLC, ST | Villarreal | |
| 89 | Olise, Michael | 20 | AMRC | Crystal Palace | |
| 89 | Doak, Ben | 16 | AMRL | Liverpool | |
| 88 | Scott, Alex | 18 | DM, MC, AMRC | Bristol City | |
| 88 | Bardghji, Roony | 16 | M/AMR | FC København | |
| 88 | Rêgo, João | 17 | AMRLC | SLB | |
| 87 | Abada, Liel | 20 | AMR, ST | Celtic | |
| 87 | Williams, Nico | 19 | M/AMRL | A. Bilbao | |
| 87 | Ângelo | 17 | AMR, ST | SAN | |
| 87 | Asprilla, Yaser | 18 | AMRLC, ST | Watford | |
| 86 | Bouanani, Badredine | 17 | AMRC | OGC Nice | |
| 86 | Romero, Luka | 17 | AMRLC | Lazio | |
| 85 | Conceição, Francisco | 19 | AMR | Ajax | |
| 85 | Sávio | 18 | AMRL, ST | Troyes | |
| 85 | Buonanotte, Facundo | 17 | MR, AMRLC | Brighton | |
| 85 | Akhomach, Ilias | 18 | M/AMRC | Barcelona | |
| 85 | Giovani | 18 | AMRL | SEP | |
| 84 | Madueke, Noni | 20 | MRL, AMRLC | Chelsea | |
| 84 | Moreira, Afonso | 17 | AMRL | Sporting CP | |
| 84 | Palmer, Cole | 20 | MC, AMRLC | Man City | |
| 84 | Vignato, Samuele | 18 | AMRC, ST | Brianza | |
| 83 | Gordon, Kaide | 17 | AMRL | Liverpool | |
| 83 | Musah, Yunus | 19 | M/AMRC | Valencia | |
| 82 | Soulé, Matías | 19 | AMRC | Juventus | |
| 82 | Marquinhos | 19 | AMR, ST | Arsenal | |
| 82 | Chacón, Yerson | 19 | M/AMRL | Deportivo Táchira | |
| 82 | Fran Pérez | 20 | MR, AMRL | Valencia | |
| 82 | Peregrina, Mario | 18 | MRC, AMC | Real Hispalis | |
| 82 | Matheus Gonçalves | 16 | AMR | FLA | |
| 82 | Addai, Jayden | 16 | AMRL | AZ | |
| 82 | Rayan | 15 | AMR, ST | VDG | |
| 82 | Brazão, Pedro | 19 | AMRLC | Famalicão | |
| 82 | Sullivan, Quinn | 18 | M/AMRC | Philadelphia | |
| 82 | Virginius, Alan | 19 | M/AMRL | LOSC | |
| 81 | Romero, Andres 23.3 | 19 | MRC | Monagas SC | |
| 81 | Ouattara, Dango 23.3 | 20 | AMR, ST | Bournemouth | |
| 81 | Kayky | 19 | AMR | Man City | |
| 81 | Gabriel Pereira | 20 | M/AMRC | NYCFC | |
| 81 | Tramoni, Lisandru | 19 | AMRLC | Pisa | |
| 81 | Marshall-Rutty, Jahkeele | 18 | DRL, WBR, AMRL | Toronto FC | |
| 81 | Pellistri, Facundo | 20 | AMR, ST | Man UFC | |
| 81 | Gomes, Luís | 18 | AMRL | Sporting CP | |
| 81 | Pedro | 16 | AMRLC | COR | |
| 81 | Al-Aswad, Mahmoud | 18 | MC, AMRC | Al-Karamah | |
| 81 | Hutchinson, Omari | 18 | MC, AMRLC | Chelsea | |
| 80 | Tejón, Martín | 18 | M/AMRLC | Valencia | |
| 80 | Cancellieri, Matteo | 20 | M/AMR, ST | Verona | |
| 80 | Diallo, Amad | 19 | MRC, AMRLC, ST | Man UFC | |
| 80 | Hugo González | 19 | M/AMRL | Valencia | |
| 80 | Diaz, Jesús | 18 | AMRL | Barranquilla F.C. | |
| 80 | Voloshyn, Nazar | 19 | MR, AMRL | Dynamo Kyiv | |
| 80 | Efekele, Malamine | 17 | AMRL | AS Monaco | |
| 80 | Blanco, Fabio | 18 | M/AMR | Barcelona | |
| 80 | Kyanno Lorenzo | 17 | AMRL | SLB | |
| 80 | Ennis, Ethan | 17 | AMRLC, ST | Man UFC | |
| 80 | Sena, Fabricio | 17 | M/AMR, ST | Boca | |
| 80 | Kacavenda, Lukas | 19 | M/AMRLC | Lokomotiva | |
| 79 | Cozier-Duberry, Amario 23.3 | 17 | AMRLC | Arsenal | |
| 79 | Kabic, Uros 23.3 | 18 | AMRLC | Vojvodina | |
| 79 | Amoo, Akinkunmi | 20 | M/AMR | FC København | |
| 79 | Bakayoko, Johan | 19 | AMRL | PSV | |
| 79 | Houben, Iggy | 17 | AMRL | PSV | |
| 79 | Lihadji, Isaac | 20 | AMRC | Sunderland | |
| 79 | Schade, Kevin | 20 | AMRLC, ST | SC Freiburg | |
| 79 | Zito | 20 | AMRL | Cagliari | |
| 79 | Mvuka, Joel | 19 | M/AMRL | FC Lorient | |
| 79 | Gómez, Carlos Andrés | 19 | AMRL | Real Salt Lake | |
| 79 | Dibling, Tyler | 16 | AMRLC, ST | Southampton | |
| 79 | Llario, Carles | 20 | AMR, ST | C.E. Sant Jordi | |
| 79 | Lorran 23.3 | 16 | MR, AMRC | FLA | |
| 78 | Fatawu, Issahaku Abdul | 18 | MR, AMRC | Sporting CP | |
| 78 | Gomes, Rodrigo | 18 | AMRC, ST | BRG | |
| 78 | Knauff, Ansgar | 20 | WB/M/AMRL | Borussia Dortmund | |
| 78 | Peter | 19 | AMRL | R. Madrid | |
| 78 | Gökay, Emre | 16 | M/AMRL | Sivasspor | |
| 77 | Perez, Juan Jose 23.3 | 18 | AMRLC | America (Quito) | |
| 77 | Markanday, Dilan | 20 | AMRL, ST | Blackburn | |
| 77 | Thielmann, Jan | 20 | MRL, AMRLC, ST | 1. FC Köln | |
| 77 | Ebiowei, Malcolm | 18 | AMRL | Crystal Palace | |
| 77 | Lafont, Gaël | 16 | AMRC | OM | |
| 77 | Juárez, Daniel | 20 | MR, AMRC | Unión (SF) | |
| 77 | Antony | 20 | AMRLC | Arouca | |
| 76 | Summerville, Crysencio 23.3 | 20 | MR, AMRL | Leeds | |
| 76 | Slory, Jaden | 17 | AMR | Feyenoord | |
| 76 | Kanga, Jardell | 16 | MR, AMRL, ST | Bayer 04 | |
| 76 | Fernandes, Roger | 16 | AMRL | BRG | |
| 76 | Hartog, Jasper | 16 | M/AMRL | AZ | |
| 76 | Vázquez, Erik | 16 | MR, AMRL | R. Madrid | |
| 75 | Borges, Carlos 23.3 | 18 | MRC | Man City | |
| 75 | Obou, David | 16 | ML, AMRLC | Crystal Palace | |
| 74 | Khadra, Reda | 20 | MR, AMRLC | Brighton | |
| 73 | George, Tyrique | 16 | MC, AMRLC, ST | Chelsea | |
(9) FM 2023 Central Attacking Midfielder Wonderkids
| R | Name | Age | Pos | Club | Nat |
| --- | --- | --- | --- | --- | --- |
| 94 | Musiala, Jamal | 19 | MC, AMRLC | FC Bayern | |
| 92 | Pedri | 19 | MC, AMRLC | Barcelona | |
| 91 | Güler, Arda | 17 | AMC | Fenerbahçe | |
| 88 | Carboni, Valentín | 17 | AMRC, ST | Inter | |
| 88 | Ben Seghir, Eliesse | 17 | M/AMC | AS Monaco | |
| 88 | Wanner, Paul | 16 | MC, AMRC | FC Bayern | |
| 87 | Samardžic, Lazar | 20 | M/AMC | Udinese | |
| 87 | Wirtz, Florian | 19 | M/AMC | Bayer 04 | |
| 87 | Zakharyan, Arsen | 19 | AMRLC | Dinamo Moscow | |
| 87 | Iglesias, Bruno | 19 | AMLC | R. Madrid | |
| 86 | Sousa, Vasco | 19 | M/AMC | FC Porto | |
| 86 | Torre, Pablo | 19 | M/AMC | Barcelona | |
| 86 | Guerrero, Julen Jon | 18 | M/AMC | R. Madrid | |
| 86 | Reyna, Giovanni | 19 | M/AMLC | Borussia Dortmund | |
| 85 | Baena, Álex | 20 | MC, AMRLC | Villarreal | |
| 85 | Aguilera, Brandon | 18 | MC, AMRC | Nottm Forest | |
| 85 | Yildiz, Kenan | 17 | AMRLC, ST | Juventus | |
| 85 | Bischof, Tom | 16 | M/AMC | Hoffenheim | |
| 85 | Baldanzi, Tommaso | 19 | AMC, ST | Empoli | |
| 84 | Santos, Guilherme | 17 | M/AMC | Sporting CP | |
| 84 | Reinier | 20 | AMC | R. Madrid | |
| 84 | Cherki, Rayan | 18 | AMRLC, ST | OL | |
| 84 | Volpato, Cristian | 18 | AMRC | Capitoline | |
| 84 | Gloukh, Oscar | 18 | M/AMC, ST | FC RB Salzburg | |
| 84 | Guilherme Biro | 18 | MRL, AMRLC | COR | |
| 84 | Kauã Brasília | 16 | AMC | FLU | |
| 84 | Ouattara, Abdoul | 16 | M/AMC | Strasbourg | |
| 84 | Bergvall, Lucas | 16 | DM, M/AMC | Djurgardens IF | |
| 84 | Freitas, Tiago | 15 | M/AMC | SLB | |
| 83 | Sanchez, Florent | 19 | AMC | OL | |
| 83 | Kozlowski, Kacper | 18 | M/AMC | Brighton | |
| 83 | Aimar | 20 | AMLC | Atlético Pamplona | |
| 83 | Idumbo Muzambo, Stanis | 16 | MC, AMLC | Ajax | |
| 83 | Monsalve, Miguel | 18 | AMLC | Independiente Medellín | |
| 83 | Zvonarek, Lovro | 17 | MC, AMRLC | FC Bayern | |
| 83 | Simons, Jevon | 16 | AMRC | PSV | |
| 83 | Pafundi, Simone | 16 | AMC | Udinese | |
| 83 | João Vitor | 17 | M/AMC | VIT | |
| 83 | Fernandes, Mateus | 18 | M/AMC | Sporting CP | |
| 82 | El Khannouss, Bilal | 18 | MLC, AMC | KRC Genk | |
| 82 | Konstantelias, Giannis | 20 | AMRLC | PAOK | |
| 82 | Sokolov, Artem | 19 | M/AMLC | Krylja Sovetov | |
| 82 | Thomi Montefiori | 19 | AMC | Guarany de Bage | |
| 82 | Hansen-Aarøen, Isak | 17 | M/AMC | Man UFC | |
| 82 | Farías, Facundo | 19 | AMLC, ST | Colón | |
| 82 | Verschaeren, Yari | 20 | AMRLC | RSC Anderlecht | |
| 82 | Carvalho, Fábio | 19 | AMRLC, ST | Liverpool | |
| 82 | Milambo, Antoni | 17 | M/AMC | Feyenoord | |
| 82 | Arthur | 17 | MC, AMRC | FLU | |
| 82 | Bounida, Rayane | 16 | AMRLC | Ajax | |
| 82 | Ndlovu, Prince | 16 | AMC | Highlanders FC (ZIM) | |
| 82 | Damar, Muhammed | 18 | MC, AMRLC | Hoffenheim | |
| 81 | Macias, Juan | 17 | AMLC, ST | Liga de Quito | |
| 81 | Marlon Gomes | 18 | MC, AMRLC | VDG | |
| 81 | Krastev, Filip | 20 | M/AMC | Lommel SK | |
| 81 | Theo | 20 | M/AMC | R. Madrid | |
| 81 | Ince, Burak | 18 | M/AMC | Arminia Bielefeld | |
| 81 | Shopov, Stanislav | 20 | MC, AMRC | CSKA-Sofia | |
| 81 | Lowry, Alex | 19 | M/AMC | Rangers | |
| 81 | Abreu, Diogo | 19 | M/AMC | Sporting CP | |
| 81 | Terceros, Miguel | 18 | AMRC | SAN | |
| 81 | Palacios, César | 17 | M/AMC | R. Madrid | |
| 81 | Cebeci, Süleyman | 19 | AMC | Trabzonspor | |
| 81 | Konig, Raul | 16 | AMRLC, ST | Borussia Dortmund | |
| 80 | Sertdemir, Zidan | 17 | M/AMC | FC Nordsjaelland | |
| 80 | Gonzaga, Jamal | 17 | M/AMC | PSV | |
| 80 | Victor Hugo | 18 | M/AMC | FLA | |
| 80 | Ibrahimovic, Arijon | 16 | MC, AMRLC | FC Bayern | |
| 80 | Ulrich, Laurin | 17 | MLC, AMRLC | VfB Stuttgart | |
| 80 | Justo, Samuel | 18 | M/AMC | Sporting CP | |
| 79 | Aouchiche, Adil | 19 | M/AMC | FC Lorient | |
| 79 | Ilkhan, Emirhan | 18 | M/AMC | Torino | |
| 79 | McAtee, James | 19 | M/AMC | Man City | |
| 79 | Haraldsson, Hákon Arnar | 19 | M/AMC | FC København | |
| 79 | Mbuku, Nathanaël | 20 | AMRC | FC Augsburg | |
| 79 | Holm, Odin Thiago | 19 | M/AMC | Vålerenga | |
| 79 | Pérez Bouquet, Sebastián | 19 | AMC | Chivas | |
| 79 | Clark, Bobby | 17 | MC, AMRLC | Liverpool | |
| 79 | Miguel Carvalho | 17 | M/AMC | Espanyol | |
| 79 | Sifumba, Luphumlo | 16 | MC, AMRLC | Cape Town City | |
| 79 | Demir, Yusuf | 19 | AMRC | Galatasaray | |
| 78 | Karabec, Adam | 18 | M/AMC | Sparta Prague | |
| 78 | Anjorin, Faustino | 20 | M/AMC | Chelsea | |
| 78 | Tapia, Ignacio | 17 | M/AMC | Belgrano | |
| 78 | Alves, Will | 17 | MC, AMLC | Leicester | |
| 78 | Onyegbule, Adriano | 16 | AMC | Basel | |
| 78 | Kozlov, Danila | 17 | M/AMC | Zenit | |
| 77 | Chaikhoun, Ayoub | 16 | AMC | Eintracht Frankfurt | |
| 77 | Traore, Daouda | 15 | M/AMC | OGC Nice | |
| 77 | Harris, Luke | 17 | M/AMC | Fulham | |
| 77 | Stevens, Archie | 16 | AMRLC | Rangers | |
| 76 | Kameri, Dijon | 18 | M/AMC | FC RB Salzburg | |
| 75 | Castledine, Leo | 16 | MC, AMRLC, ST | Chelsea | |
(10) FM 2023 Strikers Wonderkids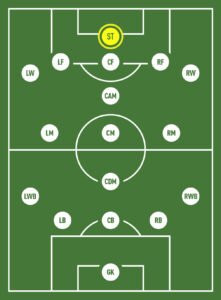 | R | Name | Age | Pos | Club | Nat |
| --- | --- | --- | --- | --- | --- |
| 96 | Endrick | 15 | AMR, ST | SEP | |
| 92 | Moukoko, Youssoufa | 17 | ST | Borussia Dortmund | |
| 88 | Gelhardt, Joe | 20 | AMC, ST | Leeds | |
| 88 | Vitor Roque | 17 | AMRL, ST | ATP | |
| 88 | Tel, Mathys | 17 | AMRL, ST | FC Bayern | |
| 87 | João Pedro | 20 | AMRLC, ST | Watford | |
| 87 | Marcos Leonardo | 19 | AML, ST | SAN | |
| 87 | Kalimuendo, Arnaud | 20 | ST | Rennes | |
| 87 | Šeško, Benjamin | 19 | ST | FC RB Salzburg | |
| 87 | Ferguson, Evan | 17 | ST | Brighton | |
| 87 | Luis Guilherme | 16 | AMRC, ST | SEP | |
| 86 | Konaté, Karim | 18 | ST | FC RB Salzburg | |
| 86 | Gnonto, Wilfried | 18 | AMRLC, ST | Leeds | |
| 86 | Silva, Fábio | 19 | ST | Wolves | |
| 86 | Vidovic, Gabriel | 18 | MC, AMLC, ST | FC Bayern | |
| 86 | Ribeiro, Rodrigo | 17 | AMR, ST | Sporting CP | |
| 86 | van Duiven, Jason | 17 | ST | PSV | |
| 85 | Højlund, Rasmus | 19 | ST | Atalanta | |
| 85 | Rijkhoff, Julian | 17 | ST | Borussia Dortmund | |
| 85 | Araújo, Henrique | 20 | ST | SLB | |
| 85 | Donley, Jamie | 17 | ST | Tottenham | |
| 84 | Lankshear, Will | 17 | ST | Tottenham | |
| 84 | Iliev, Nikola | 18 | AMC, ST | Inter | |
| 84 | Balogun, Folarin | 20 | ST | Arsenal | |
| 84 | Delap, Liam | 19 | ST | Man City | |
| 84 | Wahi, Elye | 19 | AML, ST | Montpellier | |
| 84 | Cho, Mohamed-Ali | 18 | AMRL, ST | Real San Sebastián | |
| 84 | Karrikaburu, Jon | 19 | ST | Real San Sebastián | |
| 84 | Vink, Skye | 15 | ST | Ajax | |
| 84 | Kiliçsoy, Semih | 16 | AMRL, ST | Beşiktaş | |
| 84 | Villar, Iker | 16 | ST | Sevilla | |
| 84 | Fofana, Datro | 19 | AMRL, ST | Chelsea | |
| 83 | Ekitike, Hugo | 20 | AMR, ST | Reims | |
| 83 | Mueanta, Suphanat | 19 | AMRL, ST | Buriram Utd | |
| 83 | Beljo, Dion Drena | 20 | ST | FC Augsburg | |
| 83 | Parrott, Troy | 20 | AMRL, ST | Tottenham | |
| 83 | Rutter, Georginio | 20 | AMR, ST | Leeds | |
| 83 | Rodríguez, Pablo | 20 | AML, ST | Salento | |
| 83 | Chermiti, Youssef | 18 | ST | Sporting CP | |
| 83 | Noel López | 19 | AMRL, ST | R. Madrid | |
| 83 | Scarlett, Dane | 18 | ST | Tottenham | |
| 83 | Bravo, Iker | 17 | ST | Bayer 04 | |
| 83 | Weiper, Nelson | 17 | ST | Mainz 05 | |
| 83 | Tresoldi, Nicolò | 17 | ST | Hannover | |
| 83 | Tezgel, Emre | 16 | ST | Stoke | |
| 83 | Oyen, Luca | 19 | AMLC, ST | KRC Genk | |
| 82 | Hložek, Adam | 19 | AMRL, ST | Bayer 04 | |
| 82 | Perkins, Sonny | 18 | AMLC, ST | Leeds | |
| 82 | Kaio Jorge | 20 | ST | Juventus | |
| 82 | Matheus Nascimento | 18 | ST | BOT | |
| 82 | Faghir, Wahid | 18 | ST | VfB Stuttgart | |
| 82 | Broja, Armando | 20 | AMRL, ST | Chelsea | |
| 82 | Biereth, Mika | 19 | ST | Arsenal | |
| 82 | Colombo, Lorenzo | 20 | ST | Milan | |
| 82 | Guessand, Evann | 20 | ST | FC Nantes | |
| 82 | Mara, Sékou | 19 | ST | Southampton | |
| 82 | Durán, Jhon | 18 | ST | Aston Villa | |
| 82 | Arezo, Matías | 19 | ST | Granada | |
| 82 | Tavares, Martim | 18 | ST | BVT | |
| 82 | Crespi, Valerio | 17 | ST | Lazio | |
| 82 | Housni, Ilyes | 17 | AML, ST | PSG | |
| 82 | Peña, Aimar | 18 | ST | A. Bilbao | |
| 82 | Pejcinovic, Dženan | 17 | ST | VfL Wolfsburg | |
| 82 | Krattenmacher, Maurice | 16 | AMRLC, ST | Unterhaching | |
| 82 | den Boggende, Tijn | 16 | ST | FC Utrecht | |
| 82 | Meireles, Jorge | 18 | AMC, ST | FC Porto | |
| 82 | Zefi, Kevin | 17 | AMRL, ST | Inter | |
| 82 | Kroupi, Junior | 16 | AMC, ST | FC Lorient | |
| 81 | Bavidge, Alfie | 16 | ST | Aberdeen | |
| 81 | Bazdar, Samed | 18 | AMC, ST | Partizan | |
| 81 | Diehl, Justin | 17 | AMLC, ST | 1. FC Koln | |
| 81 | Gruda, Brajan | 18 | AMRLC, ST | Mainz 05 | |
| 81 | van Brederode, Myron | 18 | AMRLC, ST | AZ | |
| 81 | Miguel Rodríguez | 19 | AMRL, ST | Vigo | |
| 81 | Flores, Marcelo | 18 | AMRLC, ST | Arsenal | |
| 81 | Vicandi, Aimar | 17 | MR, AMRLC, ST | A. Bilbao | |
| 81 | Camara, Abdoul Karim | 18 | AMRL, ST | Hoffenheim | |
| 81 | Brobbey, Brian | 20 | ST | Ajax | |
| 81 | Muñoz, Santiago | 19 | ST | Santos Laguna | |
| 81 | Tyukavin, Konstantin | 20 | ST | Dinamo Moscow | |
| 81 | Soonsup-Bell, Jude | 18 | ST | Chelsea | |
| 81 | Shitov, Vladislav | 19 | ST | Spartak Moscow | |
| 81 | Bolzan, Alessandro | 17 | ST | Capitoline | |
| 81 | Wilson, Rory | 16 | ST | Aston Villa | |
| 81 | Giovane | 18 | AML, ST | COR | |
| 81 | Laidlaw, Ethan | 17 | ST | Hibernian | |
| 81 | Deivid Washington | 17 | ST | SAN | |
| 81 | Alaoui, Anas | 16 | ST | Eintracht Frankfurt | |
| 81 | Álvaro Rodríguez | 17 | AML, ST | R. Madrid | |
| 81 | Abline, Matthis | 19 | ST | Rennes | |
| 81 | Rakov, Vadim | 17 | AMRL, ST | Lokomotiv Moscow | |
| 80 | Archer, Cameron | 20 | ST | Aston Villa | |
| 80 | Greenwood, Sam | 20 | MC, AMRC, ST | Leeds | |
| 80 | Adeyemi, Karim | 20 | AMRL, ST | Borussia Dortmund | |
| 80 | Fofana, Fodé | 19 | AMRL, ST | PSV | |
| 80 | Hernández, Jesús | 18 | ST | Tijuana | |
| 80 | Tomás, Tiago | 20 | AMR, ST | Sporting CP | |
| 80 | Beier, Maximilian | 19 | AMRL, ST | Hoffenheim | |
| 80 | Prica, Tim | 20 | ST | AaB | |
| 80 | Bica, José | 19 | AMR, ST | MRT | |
| 80 | Šimic, Roko | 18 | ST | FC RB Salzburg | |
| 80 | Ruberto, Agustín | 16 | ST | River | |
| 80 | Manquant, Joris | 16 | ST | Espanyol | |
| 80 | Brunner, Paris | 16 | ST | Borussia Dortmund | |
| 80 | Skoglund, Nicolai | 19 | ST | Sporting CP | |
| 79 | Gudjohnsen, Andri Lucas | 20 | ST | IFK Norrkoping | |
| 79 | Milosevic, Jovan | 16 | ST | Vojvodina | |
| 79 | Simeone, Giuliano | 20 | AMRL, ST | A. Madrid | |
| 79 | Novoa, Hugo | 19 | WBR, M/AMR, ST | RB Leipzig | |
| 79 | Tillman, Malik | 20 | MC, AMRLC, ST | FC Bayern | |
| 79 | Touré, El Bilal | 20 | ST | Almería | |
| 79 | Pepi, Ricardo | 19 | ST | FC Augsburg | |
| 79 | Lazetic, Marko | 18 | ST | Milan | |
| 79 | Mustre, Eduardo | 19 | ST | Pachuca | |
| 79 | Milovanovic, Marko | 18 | ST | Almería | |
| 79 | Dendani, Nacim | 16 | AML, ST | AS Monaco | |
| 78 | Delibasic, Niksa | 16 | ST | Cukaricki | |
| 78 | Meleshin, Pavel | 18 | ST | Spartak Moscow | |
| 78 | Morgan, Jimmy-Jay | 16 | AMRLC, ST | Chelsea | |
| 78 | Huskovic, Muharem | 19 | AMC, ST | FK Austria Vienna | |
| 78 | Alba, Ricardo | 19 | ST | At. San Luis | |
| 78 | Poku, Ernest | 18 | AMRL, ST | AZ | |
| 78 | Kjærgaard, Maurits | 19 | M/AMC, ST | FC RB Salzburg | |
| 77 | Mijatovic, Jovan | 17 | AMRL, ST | Crvena zvezda | |
| 77 | Emegha, Emanuel | 19 | ST | SK Sturm Graz | |
| 76 | Kuol, Garang | 17 | AMR, ST | Newcastle | |
| 75 | Néné, Dorgéles | 19 | AMRL, ST | FC RB Salzburg | |
| 75 | Kallon, Yayah | 20 | AMRLC, ST | Genoa | |