Introduction
In the world of modern football analysis, Expected Goals (xG) has become a pivotal metric in understanding the quality of scoring opportunities a team creates and concedes during a match. On August 21, 2023, Arsenal faced off against Crystal Palace, resulting in a 2-1 victory for Arsenal. A closer look at the xG flowchart for this match reveals key insights into the team's attacking efficiency, defensive performance, and overall gameplay.
Key Match Statistics
Scoreline: Arsenal 2.21 – Crystal Palace 1.07
Scorer: Martin Ødegaard (Arsenal) – 54′ (penalty kick)
Shots: Arsenal 14, Crystal Palace 14
Shots on Target: Arsenal 3, Crystal Palace 2
Possession: Arsenal 54%, Crystal Palace 46%
Total Passes: Arsenal 489, Crystal Palace 428
Pass Accuracy: Arsenal 86%, Crystal Palace 86%
Corners: Arsenal 8, Crystal Palace 1
Interpreting the xG Flowchart
Expected Goals (xG) assigns a value to each shot based on various factors such as distance from the goal, angle, and type of opportunity. Analyzing the xG flowchart for this match helps us understand the dynamics of the game in terms of the quality of chances created and the effectiveness of both teams' attacks.
Attacking Efficiency: Arsenal's xG of 2.21 indicates that their attacking play created scoring opportunities equivalent to around two goals. Crystal Palace's xG of 1.07 suggests they had chances worth approximately one goal. This implies that Arsenal had higher-quality opportunities overall, which was reflected in the final score.
Scoring Moments: The goal scored by Martin Odegaard in the 54th minute from a penalty kick is represented in the xG flowchart. Penalty kicks typically have a high xG value due to the high likelihood of conversion. This goal contributed significantly to Arsenal's xG and the final outcome.
Shots and Shot Accuracy: Both teams registered 14 shots each, indicating a relatively balanced attacking intent. However, Arsenal managed to get more shots on target (3 vs. 2), implying better shot selection and accuracy. This might be attributed to their superior ball circulation and positioning in the final third.
Possession and Passing: Arsenal's higher possession percentage (54%) signifies their control over the game's tempo and rhythm. The total passes completed by both teams (Arsenal 489, Crystal Palace 428) highlight Arsenal's emphasis on ball circulation and patient build-up play.
Corners: Arsenal's eight corner kicks compared to Crystal Palace's one indicate their dominance in attacking set-piece situations. Set-pieces often lead to high-quality chances, and this reflects Arsenal's proactive approach to creating opportunities from dead-ball situations.
Shot map Arsenal vs Crystal Palace, August 21, 2023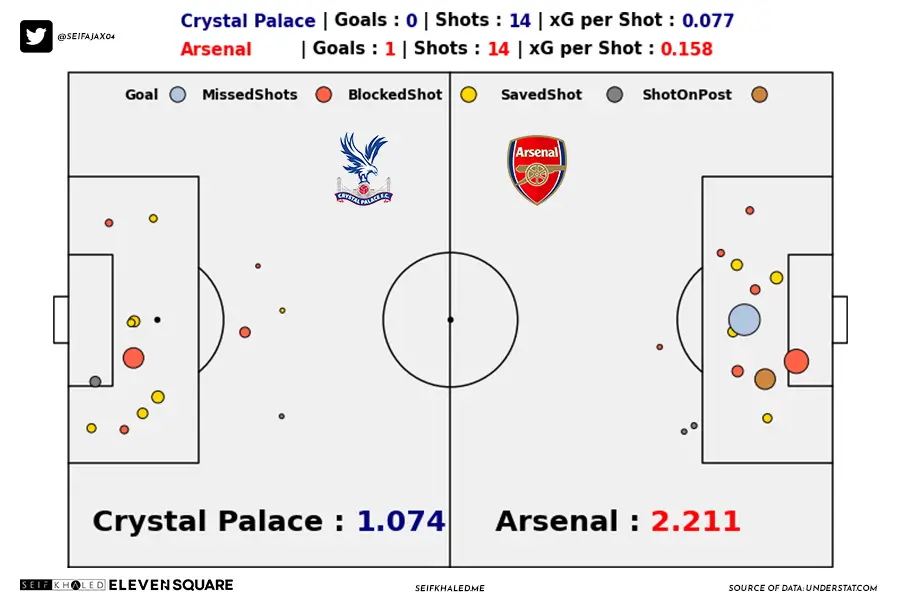 Conclusion
The xG flowchart analysis of the Arsenal vs. Crystal Palace match on August 21, 2023, provides valuable insights into the teams' performances. Arsenal's higher xG, possession, shot accuracy, and corner count underscore their better overall attacking efficiency and control of the game. While Crystal Palace put up a competitive performance, the quality and frequency of Arsenal's scoring opportunities ultimately influenced the outcome. This analysis showcases how xG can help dissect a match beyond the scoreline, revealing the strategic and tactical aspects that shape the result.
#UpcomingMatch