Introduction
In the realm of modern football analysis, Expected Goals (xG) has emerged as a crucial metric to dissect match dynamics beyond the final scoreline. The showdown between Arsenal and Fulham on August 26, 2023, in the Premier League is a prime example of how xG offers insight into the quality of scoring opportunities. This article takes a deep dive into the xG flowchart of the match, accompanied by a thorough analysis of key match statistics.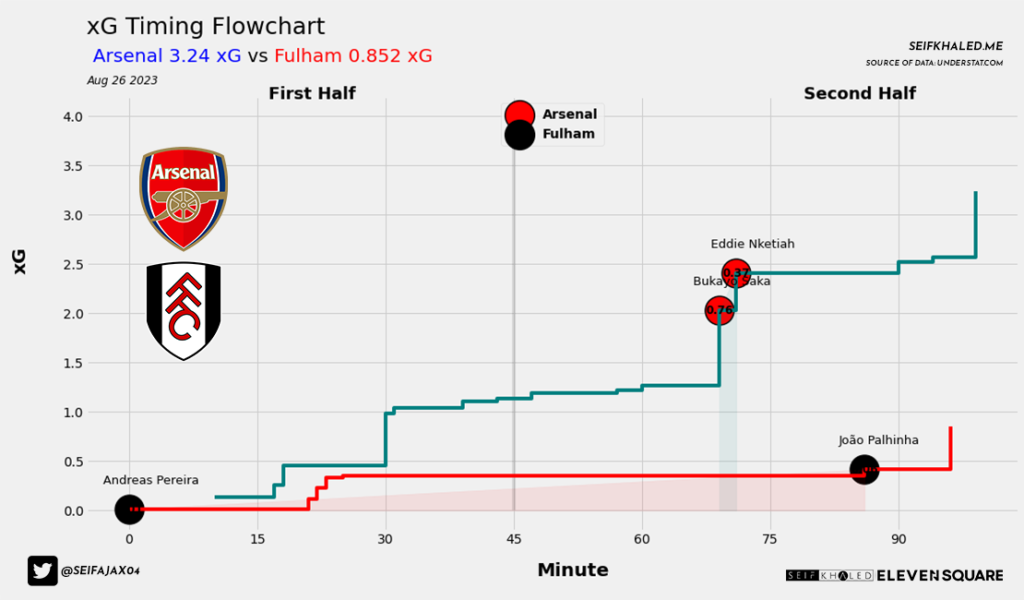 Arsenal vs. Fulham Match Overview
Match Result: 2-2
xG: Arsenal 3.23 – Fulham 0.85
Date: August 26, 2023
Arsenal vs. Fulham Key Goal Moments
Andreas Pereira (01′): Fulham took an early lead with a swift strike from Andreas Pereira in the 1st minute, setting the tone for an eventful encounter.
Bukayo Saka (70′) – Penalty Kick: Arsenal's tenacity paid off when Bukayo Saka converted a penalty kick in the 70th minute, leveling the playing field and sparking renewed energy.
Edward Nketiah (72′) – Assist: F. Vieira: The momentum swung Arsenal's way as Edward Nketiah capitalized on F. Vieira's assist in the 72nd minute, giving the home team a well-earned lead.
João Palhinha (87′): Fulham fought to the end, with João Palhinha notching a late goal in the 87th minute, providing a glimmer of hope despite the scoreline.
Analyzing Key Match Statistics
Shots and Shots on Target: The shot statistics reflect Arsenal's offensive prowess. With 19 shots and 11 on target, they exhibited efficiency in converting opportunities. In contrast, Fulham managed 8 shots with 3 on target, underscoring their struggle to breach Arsenal's defense effectively.
Possession: Arsenal's 71% possession demonstrates their control of the game's tempo. Dominating possession allowed them to dictate play and restrict Fulham's attacking options.
Passing Accuracy and Total Passes: Arsenal's impressive 90% pass accuracy from a total of 680 passes exemplifies their ability to maintain possession with precision. Fulham, with a pass accuracy of 72% from 274 passes, faced challenges in retaining the ball under Arsenal's pressure.
Corners: The corner count of 8 for Arsenal and 3 for Fulham indicates Arsenal's higher frequency of attacking situations and their ability to create set-piece opportunities.
xG Insight: The xG values—Arsenal 3.23 and Fulham 0.85 align with the match dynamics. Arsenal's higher xG signifies their superior quality of scoring chances, commensurate with their higher shot count, shots on target, and overall dominance.
Shot map Arsenal vs Fulham, August 26, 2023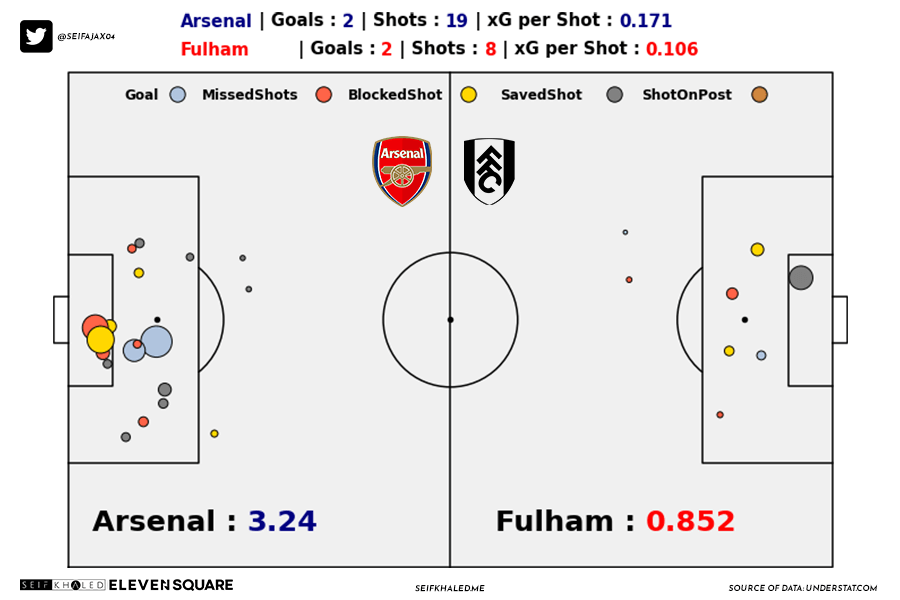 Arsenal vs. Fulham Match Analysis
While the result of the match was a 2-2 draw, the xG and key statistics narrate a story of fluctuating fortunes. Arsenal's possession-heavy, precision-driven style clashed with Fulham's resilient efforts, ultimately leading to a balanced scoreline.
Conclusion
The Arsenal vs. Fulham encounter of August 26, 2023, immortalizes the synergy between data and football. The xG canvas unveiled the nuanced fabric of the game, substantiated by key statistics. Arsenal's control, tactical acumen, and decisive shots harmonized with their superior xG, while Fulham's determination and opportunistic play yielded an equalizer. This match stands as an ode to football's evolving landscape, where numbers merge with the beautiful game's artistry.
#UpcomingMatch