In every successful club, there are diligent
backroom staff
working tirelessly behind the scenes to ensure that processes are appropriately managed. This principle is equally applicable in
Football Manager
as it is in real life, especially when it comes to particular categories of staff.
In my view, scouts do not receive the recognition they rightfully deserve. They travel to various countries throughout the year, scrutinizing numerous players and determining whether they are suitable for recommendation to the club manager.
In FM23, scouts are just as crucial as they have always been. If you desire a plethora of high-quality, precise player recommendations to enhance your squad, you must ensure that you have the right personnel in those positions.
However, discovering the best wonderkids or cheap signings on FM23 necessitates more than simply hiring the best scouts. While having the appropriate personnel is the first step, you must also know how to utilize them to their fullest potential.
This guide to scouting in Football Manager 2023 provides answers to questions such as how to establish a scouting network and how to allocate scouts to tasks. Additionally, it covers several other related topics.
Managing your scouting department in Football Manager 2023
Upon beginning a new game in Football Manager 23, one of the initial actions related to scouting is to oversee and evaluate the scouting department. This necessitates a comprehensive assessment of the staff.
– Backroom Staff
Once you access the "Staff" section, you will see a comprehensive list of your club's backroom staff. However, for this guide, only the scouts are relevant.
The most significant factors when assessing a scout's competence are their scores in the "judging player ability" and "judging player potential" categories. While the level of your club may influence your expectations, a rating of 16 or higher in each of these categories is generally considered good enough.
If you determine that your scouting team requires an upgrade, you can search for new scouts. Later in this section, I have included a list of the top free scouts in Football Manager 23.
The board of directors establishes a minimum and/or maximum number of scouts that a club can have. As a result, sometimes you must release a scout before signing a new one. Financial constraints may also necessitate such a decision. If your wage budget cannot accommodate a new scout, you may need to let someone go.
One potential solution to these challenges is to make a board request. You can request that the board increase the scout wage budget or the maximum number of scouts allowed in the club. However, there is no guarantee that such requests will be granted.
– Chief Staff
While you're hiring and/or firing scouts, bear in mind that you need a chief scout that oversees all scouting assignments.
Considering the fact that he's the leader of the team, I would recommend assigning this role to the scout with the best ratings in the relevant areas. You should also check for good man-management skills as it's often a good indicator of a strong leader.
– The Best Free Scouts in FM23
Below is a table displaying the top free scouts in FM23, with a minimum rating of 17 in "Judging Player Ability" and "Judging Player Potential."
While compensation fees aren't a concern when signing free scouts, it's still crucial to negotiate wage structures that are financially advantageous for your club. If a scout's wage demands are excessive and they're unwilling to negotiate, consider pursuing other options.
Here are the best free scouts in FM23:
| | | | |
| --- | --- | --- | --- |
| Name | Age | Judging Ability | Judging Potential |
| Simone Roia | 50 | 17 | 17 |
| Domenico Donvito | 36 | 17 | 17 |
| Gabriel Wainer | 56 | 17 | 17 |
| Scott MacLachlan | 53 | 17 | 17 |
| Tommy Miller | 76 | 17 | 17 |
| Alexandre Ceolin | 59 | 17 | 18 |
| Radu Baicu | 42 | 17 | 18 |
| Lluís González | 52 | 17 | 18 |
| Lorenzo Farris | 46 | 17 | 18 |
| Bojan Krkic | 59 | 17 | 18 |
| William Santos | 36 | 17 | 19 |
| Antonio Mur | 58 | 18 | 18 |
| Yilmaz Burul | 63 | 18 | 19 |
| Francis Cagigao | 53 | 18 | 19 |
| Jorge Gomes | 65 | 19 | 19 |
| David Trezeguet | 44 | 19 | 20 |
| Wolfgang Grobe | 66 | 19 | 20 |
| Jim Lawlor | 56 | 20 | 20 |
Managing Scouting Budget in football manager 23
While expanding your club's knowledge of players in international football may be desirable, it's critical to exercise patience in pursuing this goal.
Sending numerous scouts on numerous assignments to far-flung locations in a short period will swiftly deplete your scouting budget. To manage costs, you can shift funds from your transfer budget to your scouting budget or make a board request.
However, even teams with substantial transfer budgets in FM23 may exhaust their transfer funds. Therefore, the most effective method for managing your scouting budget is to plan more effectively.
Recruitment Focus in football manager 23
Under the scouting overview section, you'll find a recruitment focus sub-section. Clicking on it leads to an option to create a new recruitment focus, which brings up a pop-up menu.
This menu enables you to appoint a scout and analyst to compile reports on players who meet specific criteria that you define. You can specify filters, such as position, role, current ability, potential ability, transfer type, age, and priority, among others.
Additionally, you have the option to assign any scout and analyst or select specific personnel for the task.
Scouting Recommendations in football manager 23
Once reports for your recruitment focus are compiled, you can access them all in one location on the same sub-section page or under "Scouting Recommendations" on the Scouting Overview page.
Under the "RF Matches" tab for players, you can view the number of recruitment focus metrics that each player matches with. The higher the count, the greater the probability that the player is a suitable fit for your squad.
When a player's complete report is available, it will include an overall scout recommendation score, graded from A to F.
Managing Shortlists in football manager 23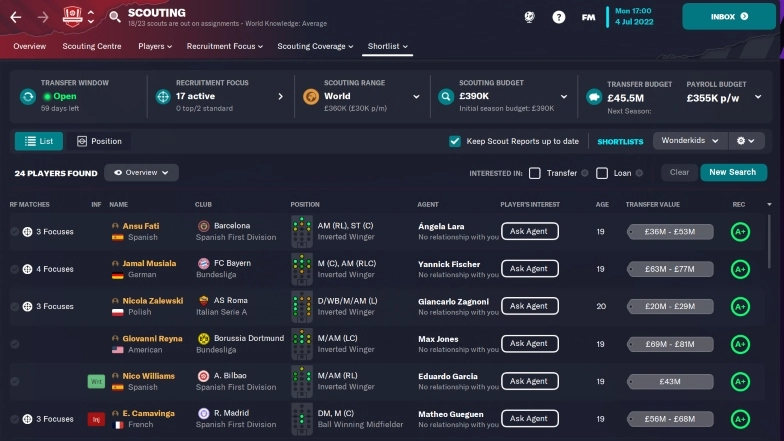 Shortlists are an efficient way to categorize scouted players into as many groups as you need, making it easy to locate them when you're ready to make a bid.
While scouting recommendations already group players based on your recruitment focus, you won't receive information about these players in your inbox unless they're on a shortlist. Additionally, as scouting recommendations accumulate until you terminate the assignment, the lists may become too lengthy to manage effectively.
If you want to stay informed about a player's behavior, such as if they throw a tantrum, request a transfer, or sign a new contract, adding them to a shortlist is the best approach.
You can manage shortlists in the "Shortlists" tab of the Scouting section. If you're starting a new game in FM23, it may be wise to create shortlists for free agents, wonderkids, and budget signings initially.
Scouting Assignments in Football Manager 23
When you're ready to establish a scouting assignment, numerous options are available to you. You can dispatch your scout(s) to observe and report on a specific player, team, league, nation, or region.
The duration and costs associated with each of these assignment types differ based on various factors. Therefore, when setting up a new assignment, it's crucial to pay attention to the associated costs.
– Scouting Players
If you've enabled player attribute masking at the start of the game, you'll need to conduct extensive scouting. However, if you disable this feature, you'll be able to view all player attributes in-game simply by visiting their profile. Nonetheless, you'll still require scouting reports to obtain detailed information on their ability, potential, and suitability for your team.
To scout a player, navigate to their profile and choose the "Scout Player" option. Depending on the assigned scout's workload, you should receive feedback within a matter of days.
– Scouting Teams
Scouting teams can prove invaluable when your squad is about to face them. You can obtain a comprehensive report on the opposing team's lineup, formation, playing style, recent form, strengths, and weaknesses.
This information is critical for preparing your team to compete against them. You can establish tactical instructions that guard against the opposition's strengths and also attempt to capitalize on their weaknesses.
– Scouting Leagues & Nations
In the absence of a particular player in mind, you can dispatch your scouts to leagues recognized for producing high-quality talent.
Beyond the prominent top leagues, your scouts can uncover hidden gems and economical signings from smaller European leagues and South American nations like Brazil and Argentina.
Alternatively, you can scout entire nations instead of specific leagues within them. Typically, each nation encompasses several leagues, providing your scouts with a broader range of talent to recommend.
– Scouting Regions
FM23 features six primary scouting regions, each of which is further subdivided into sub-regions. For example, South America is divided into South America (South) and South America (North).
The main regions comprise Africa, Oceania, Asia, Europe, and North America. Becoming familiar with these regions and their potential for generating top wonderkids in FM23 can greatly assist you in being among the first to discover high-potential regens.
While many wonderkids originate from Europe and South America, narrowing your scouting to sub-regions containing the most productive nations can further enhance your success. Here are some of the best sub-regions to scout in FM23, listed in no particular order:
– Central Europe
– Eastern Europe
– Western Europe
– UK & Ireland
– South America (South)
Scouting Coverage in football manager 23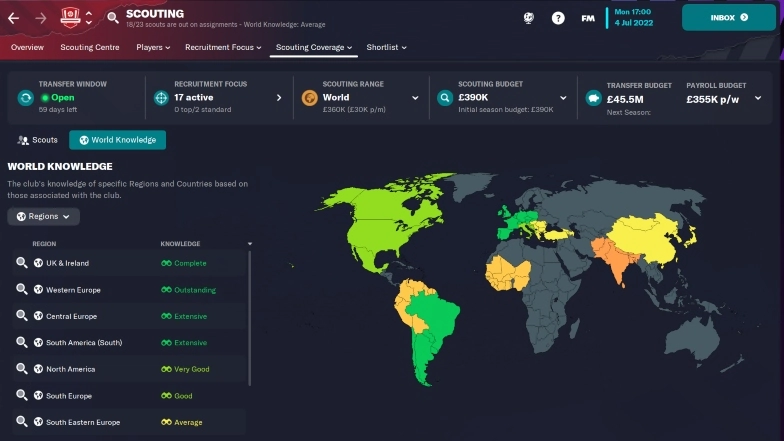 As your scouts investigate the leagues, nations, and regions you've assigned them to, your club's all-encompassing knowledge of players worldwide will expand.
If you want to assess how much general information your scouts have gathered on players globally, navigate to the "Scouting Coverage" section. You'll see a color-coded globe representation indicating the extent of your data on each region.
Green signifies complete, extensive, or outstanding knowledge of an area, while light green indicates a good/very good amount of knowledge. Any color other than green suggests that you still have some work to do in that area.
Final Words
This FM23 scouting guide highlights three primary takeaways: recruiting top-notch scouts, being purposeful with scouting assignments, and ensuring your staff is not overburdened.
By adhering to these relatively straightforward guidelines, you can expect a steady flow of high-quality talent to join your club.